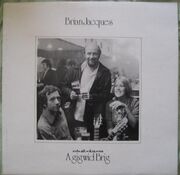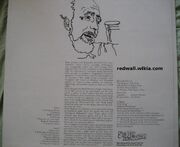 A Gig wid Brig is a 12in. 33RPM LP featuring Brian Jacques, his business partner Liz Crampton, and accompaniment Tony Higham who all went by the group name "Brigantine." The group also performed under the name "Brian Jacques & Brigantine" during the 1970s and 1980s at folk clubs throughout Liverpool.
The main club at the time which featured Brigantine was called the Metropolitan Folk Club, which initially operated at the Catholic Metropolitan Club in Liverpool, and later a venue called Winston's.
This LP was recorded live in Solihull on March 25th, 1974, so Brian was about 34 years old at the time. The title is basically saying "A gig (get together) with Brig(antine)". The venue, Boggery Folk Club, was founded by Jasper Carrott in 1961.
The LP was released on the Sweet Folk And Country label.
Length: 49:02
Catalogue # SFA 011
Recording Engineer: Johnny Haynes
Producer: Joe Stead
The Boggery Folk Club
Old Moselians Rugby Club
Solihull, Warwickshire
Sweet Folk All Recordings Ltd.
Erith
DA8 3BJ
Tracklisting
Side A
Title
Composer
Publisher
Length
1
Liverpool Home
McGovern
Spin Publications
5:10
2
Fokkers
Jacques
Anvil Press
5:16
James Russell
Jacques
Anvil Press
Folk Song*
Jacques
Anvil Press
3
Memoirs of a wet night
Jacques
Anvil Press
3:51
Boghole monologue
Jacques
Anvil Press
4:29
4
Someday Soon
Tyson
Warner Brothers
3:07
Side B
| | Title | Composer | Publisher | Length |
| --- | --- | --- | --- | --- |
| 1 | Deportees | Guthrie | Tro-Essex Music | 5:01 |
| 2 | Robin Hood Monologue** | Jacques | Anvil Press | 6:35 |
| 3 | Timothy Winters | Causley | David Higham Associates | 3:39 |
| | Pastores a Belem | Trad. arr. Crampton | Copyright Control | 2:43 |
| 4 | Horizontal Lil** | Jacques | Anvil Press | 3:49 |
| 5 | Dockland Hassite | Jacques | Anvil Press | 1:39 |
| | Leaving of Liverpool | Trad. arr. Jacques | Copyright Control | 3:43 |
* from Yennoworrameanlike
** from Get Yer Wack
53s sample of "Liverpool Home" - Brigantine (
file info
) —
Back Cover Text
Brian Jacques and Brigantine are definitely entertainment, vulgar, funny, nostalgic, enthusiastic, sad, swaggering, sweet, but never boring. Their material ranges from the sublimely to the gorblimey, with the characteristic Liverpool accent and earthiness proudly in evidence. Brigantine's stamping ground is the North West, based in their hometown of Liverpool they range across Lancashire into Yorkshire and down to Cheshire and Flintshire equally at home in pubs, cabaret, art festivals, happenings and student unions as they are in folk clubs.
Brian Jacques the Head Serang is largely instrumental in the revival of the monologue on the folk scene, a native "scouse" with a face like the Dock Road (before it was re-surfaced) ail that Jake seems to require of life is a cigarette, a pint and an audience as he readily demonstrates on this album with such gems as "Horizontal Lil" and "Folk Song" which are only two of the many epics he has written over the years.
Tony Higham is a guitarist of no mean skill having accompanied Jake since the good old, bad old "Liverpool Fishermen" days. Tony plays both classical and flamenco guitar and is a far more gentlemanly fellow than the other ruffian (Jacques) with whom he has made several television appearances and two previous albums.
Liz Crampton could have had a successful singing career on any scene. The power, clarity, and sweetness of her voice need no selling to audiences in fact she doesn't need a mike most of the time. Liz plays guitar and gives full justice to Charles Causley's "Timothy Winters" and the old faithful roof lifter "Leaving of Liverpool". Many thanks also to the great audience who were with Brigantine every inch of the way, but as Jake later remarked "We managed to shake 'em off at the station".
―Joe Stead