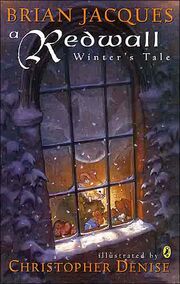 A Redwall Winter's Tale is the second Redwall picture book. It is surmised that it takes place between Redwall and Mattimeo, as Friar Hugo and Mrs Lettie Bankvole are still alive. However Sam Squirrel is now Noisy Sam, and he seems to be an adult. Since he was just out of Dibbunhood at the beginning of Mattimeo, this seems to conflict.
Summary
A Redwall Winter's Tale begins on the last day of autumn. At Redwall Abbey, Dibbuns Bungo and Tubspike are outside welcoming the Traveling Thistledown Troupe to the Abbey.
The performers, led by Hypericum Hadduck Hare, put on a show for the Redwallers. Afterward, everyone feasts in Great Hall. When it is time for bed, Bulbrock Broadstripe tells the Dibbuns the story of the Snow Badger, a mythical creature who makes the snow fall. This story quickly sends all the Dibbuns to sleep.
That night, the Snow Badger brought winter to Redwall. The following morning, Bungo sees the Snow Badger outside his window as he is frosting the glass and is able to talk to him. The Badger takes a liking to Bungo's curious nature. Later, when Bungo tells other Abbey dwellers about his experience, they don't believe him. However, Bulbrock reveals that he also met the Snow Badger when he was younger.
After talking with Bulbrock, Bungo finds a pouch around his neck that Bulbrock reveals he also received in his childhood. It contained a small crystal drop and a riddle on a scrap of parchment. Bulbrock advises Bungo to think about the riddle while playing, and the Redwallers go outside and have a snowball fight.
That evening, the Abbot proved his mental prowess by solving the riddle. The riddle revealed that the crystal was a gift from the Snow Badger to Bungo as evidence of their meeting.

Characters in A Redwall Winter's Tale
Release Details
2004, US, Puffin, ISBN 0142401986, Pub. Date: October 2004, Paperback
2004, UK, Puffin, ISBN 0142401986, Pub. Date: October 2004, Paperback
2001, UK, Hutchinson, ISBN 0091769485, Pub. Date: 2001, Hardcover
Community content is available under
CC-BY-SA
unless otherwise noted.