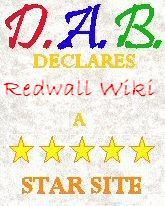 Welcome! The Redwall Wiki is first and foremost a communal wiki resource dedicated to providing current and relevant information and news regarding Redwall, Castaways of the Flying Dutchman, and Brian Jacques. This also includes the Redwall Online Community, as well as all Redwall-related media.
To start contributing, please see the Help, Manual of Style, and Community Central pages to learn more about how we operate!
If you have a hot news tip or media query, please feel free to Contact Us.
Administrators
Interesting Facts
First character article: Martin the Warrior
First image: Coggs
The Redwall Wiki is cited and mentioned in the thesis "From Wanderer to Warrior: Martin's Journey to Sainthood in Brian Jacques's Redwall Series" by Marie A. Bliemeister
The Redwall Wiki is mentioned in the 2011 book "Teens, Libraries, and Social Networking: What Librarians Need to Know" by Denise E. Agosto.
At least 178 countries have visited the Redwall Wiki:
United States, United Kingdom, Canada, Australia, New Zealand, Germany, Sweden, Russia, Finland, Philippines, France, Ireland, Netherlands, Brazil, Singapore, Italy, Japan, Hong Kong, India, Spain, Poland, Norway, South Korea, Turkey, South Africa, Portugal, Belgium, Denmark, Switzerland, Mexico, Israel, Malaysia, Hungary, Ukraine, Romania, Taiwan, Thailand, Greece, United Arab Emirates, Austria, Czech Republic, Indonesia, Bulgaria, Argentina, Slovakia, Saudi Arabia, Colombia, China, Malta, Chile, Serbia, Latvia, Egypt, Slovenia, Croatia, Trinidad and Tobago, Pakistan, Guam, Macedonia, Iran, Dominican Republic, Puerto Rico, Peru, Lithuania, Venezuela, Kuwait, Qatar, Vietnam, Bosnia and Herzegovina, Estonia, Albania, Serbia and Montenegro, Morocco, Tunisia, Jamaica, Costa Rica, Algeria, Belarus, Georgia, Iraq, Iceland, Senegal, Moldova, Lebanon, Panama, Jordan, Guatemala, Kenya, Cyprus, Bolivia, Ecuador, Luxembourg, Sri Lanka, Barbados, Kazakhstan, Bahrain, Oman, Bahamas, Tanzania, Nigeria, Bangladesh, Brunei, Mongolia, Libya, Uruguay, El Salvador, Cayman Islands, Ghana, Honduras, Palestinian Territory, Lesotho, Bermuda, Niger, Isle of Man, Mauritius, Jersey, Netherlands Antilles, Monaco, Syria, U.S. Virgin Islands, Montenegro, Saint Vincent and the Grenadines, Myanmar, Botswana, Martinique, Aland Islands, Azerbaijan, Armenia, Dominica, Fiji, Sudan, Angola, Saint Kitts and Nevis, Afghanistan, Guadeloupe, Zimbabwe, Namibia, Grenada, Nicaragua, Laos, Djibouti, Gibraltar, Aruba, Uganda, Saint Lucia, Reunion, Benin, Greenland, Uzbekistan, Yemen, Paraguay, Ivory Coast, Nepal, Faroe Islands, Mali, Guernsey, Macau SAR China, British Virgin Islands, Antigua and Barbuda, Anguilla, Burkina Faso, New Caledonia, Congo - Kinshasa, Maldives, Gambia, Zambia, Cape Verde, Mozambique, Ethiopia, Cambodia, Turks and Caicos Islands, Marshall Islands, Seychelles, Belize, Andorra, Togo, and Tajikistan
Statistics
The following links provide various types of statistics for the Redwall Wiki:
Redwall Wiki Dump
RSS/Atom newsfeeds
RSS
Atom
History
The Redwall Wiki was founded on October 10, 2005 by LordTBT in an attempt rejuvenate the Redwall Online Community from its downward spiral into listless forums and non-tended websites.
In 2008, the Redwall Wiki celebrated 2500 articles with a new domain, redwallwiki.com.
Timeline
10 October 2005 The Redwall Wiki founded.
6 January 2006 The Redwall Wiki reaches over 400 articles in approximately 3 months.
11 February 2006 The Redwall Wiki receives a front page promotion from Dave Lindsay, webmaster of the sole official Redwall site.
February 2010 The Redwall Wiki is a Spotlight Wiki during the month of February 2010.
August 2011 The Redwall Wiki is a Spotlight Wiki during the month of August 2011.
November 2015 The Redwall Wiki is a Spotlight Wiki during the month of November 2015.
Friends of the Redwall Wiki
The following are external links to those Redwall websites and others who have linked the Redwall Wiki.