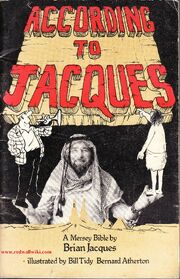 According to Jacques: A Mersey Bible was the third published work of Brian Jacques. It was published by Raven Books in May 1975.
The book is currently out of print.
Summary
According to Jacques: A Mersey Bible is a collection of poetry that parodies many allegories of the Old Testament. The original recommended price was £0.60p, or roughly $0.98.
Titled poems include:
On the Eighth Day
Adam 'an Eve
Caynanable
Skroll from a Skolar
Noah's Dream
Joseph
The Finding of Moses
Let My People Go
Lost in the Wilderness
The First Rebel
Samson and Delicious
The Big Game
David and Goliath
The Judgement of Solomon
The Song of Solomon
Jonah an' the Whale
The Siege of Liverpool
Feature
This item was featured in the Redwall Collectors Community series.
Community content is available under
CC-BY-SA
unless otherwise noted.