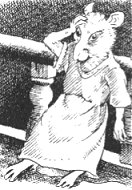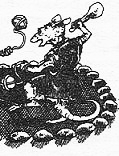 Allan Curless was a Redwall chapter icon illustrator. He was also a political cartoonist for 16 years, working mostly for the Sunday Times. Marlfox, the first book published after his death, was dedicated to him.
Born: 1950
Education: Gloucestershire College of Art and Design
Died: 1997
Other Works
A Tolkien Bestiary (1979) by David Day
A Fourth Poetry Book (1987) by John Foster (Editor)
Spaceways: An anthology of space poems (1987) by John Foster (Editor)
Mr. Punch (1989) by Catherine Macaskill
Daniel's Train (1995) by Angela McAliser and Allan Curless
Time Flies (1996) by Mary Hooper
Cat's Song (1996) by Andrew Matthews
Shipshape (1996) by Sally Grindley
A - Z of Tolkien (1996)
If you want to be a cat (1997) by Joyce Dunbar
A Guide to Tolkien (2001)
Books
Other
Community content is available under
CC-BY-SA
unless otherwise noted.