Arula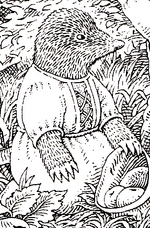 Arula was an orphaned molemaid of Redwall Abbey. She was Samkim's sidekick in his quest to retrieve the sword of Martin from the fox Dethbrush. She was described as very pretty by Martin the Warrior through a vision.
Dumble tells Arula's grandson, Burrem, the tale of Salamandastron.
Trivia
Like Samkim, Arula is based on a Redwall fan. A girl named Laura submitted a curriculum vitae with reasons why she would make a good mole. Brian Jacques obliged and put her in one of his books as Arula, rearranging the letters in her name.
Arula is also a Sanskrit name meaning "brilliant" and "grace".
Community content is available under
CC-BY-SA
unless otherwise noted.