Belladora Ivywain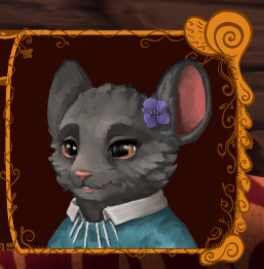 Belladora Ivywain was the twin sister of Dorabella Ivywain and the sister-in-law of Nillis. She resided in Lilygrove.
Official Description
Belladora, the twin of Dorabella, is a middle-aged mouse that could best be described as flighty. She is artistic and enthusiastic, prone to song and poetry, and constantly seeks a life of "fun." In fairness, the family fortunes have made her frivolous lifestyle possible and the woman has never had to work a day in her life.
In a crisis, she is at first utterly helpless but in time her deeper character rises to the occasion and she works very hard to be useful in some way, ANY way, and not be the dead-weight her sister accuses her of being. She loves her sister, but thinks she works too hard and fears she will miss out on the finer and more important aspects of life. Even so, she is determined to prove to her sister that she is more than the scatterbrained child she often sees. The problem is, she often lacks the energy and drive to follow through with her plans and intentions to accomplish. She loves song and poetry and dabbles in all manner of craft, even taking sewing lessons from Albert. She likes things to be fun and can usually find the silver lining in any situation. She is a delight to be around, friendly and talkative, but does have a tendency to get excited and interrupt (and when she doesn't finds her mind empty of the thoughts that flitted through and away).