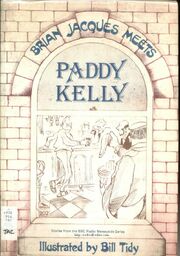 Brian Jacques Meets Paddy Kelly: Stories from the BBC Radio Merseyside Series is the sixth known published work of Brian Jacques. It was published by Raven Books in November 1981.
The book is in hardcover form, and features illustrations by Bill Tidy, with cover art by Gill Dempsey. The hardcover book is large in size, being 8x12.
"Paddy Kelly" is Liverpudlian slang for a dock police officer.
It is currently out of print, and considered extremely rare.
Summary
Brian Jacques Meets Paddy Kelly is a lengthy storybook written in the Liverpudlian dialect featuring a cast of Liverpool characters:
Brian Jacques
Paddy Kelly
Deziree (his wife)
Olivia & Vanessa (Paddy's two eldest daughters, mid-teens)
The Twins, Tucker and Tosh (Theodore & Macintosh, 12-year-old males)
The Baby (Regina, age 2)
Our Corny (Cornelius, Paddy's youngest son, age 6)
Fang (Kelly dog of indeterminate breed)
Kirkdale Kid (Paddy's friend who often gets him into trouble)
Outsize Morris (Chairman of the Pigeon Fanciers Club)
Aggie Sweeney (Manageress of the 'Dog and Carrot')
Paddy supports Liverpool, while his wife supports Everton football.
The Dog and Carrot is Paddy's local pub.
The books consists entirely of dialogue between the characters.
Back Cover Text
Brian Jacques...
Born in Liverpool (will probably snuff it there too) loves the place! Also likes italian wine, french fags, gangster movies, chili and grand opera (not necessarily in that order). Worked in more jobs than he has had hot dinners, face like a map of Merseyside (accent too) folksinger, stand up comic, after dinner speaker, authority on matters scouse, actor, playwright, broadcaster, author, songwriter, worked for both channels on t.v. most wavelengths on radio and is currently languishing at B.B.C. Radio Merseyside. What more can one say........not much I suppose........then you'd better belt up hadn't you........well you started it!
P.S....He's good to dogs and kids and likes sausage butties.
Community content is available under
CC-BY-SA
unless otherwise noted.