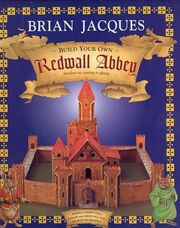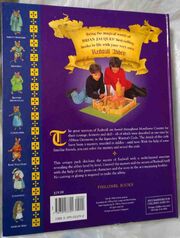 Build Your Own Redwall Abbey was released in 1998 as an accessory to the Redwall series. The original price was $19.99. It is currently out of print, and considered rare. Damian Johnston contributed paper engineering.
Official Product Synopsis
The great warriors of Redwall are famed throughout Mossflower Country for their courage, honesty and skill - all of which were described at one time by Abbess Germaine in the legendary Warrior's Code. The details of this code have been a mystery, encoded in riddles - until now. With the help of some familiar friends, you can solve the mystery and reveal the code.
This unique pack discloses the secrets of Redwall with a multi-layered structure revealing the abbey level by level. Unravel the mystery and the secrets of Redwall itself with the help of the press-out characters and the story int he accompanying booklet. No cutting or gluing is required to make the abbey.
Summary
With this kit, one is able to construct a paper version of Redwall Abbey. A short story, The Redwall Warrior's Code, is also included, and many of the various clues from the riddle featured in the story can be found throughout the model. As an extra touch, 16 small paper figures of many of the characters from the book Redwall can be placed in the Abbey. These figures are about 1" tall. It takes about an hour to assemble, but most people over the age of 10 can do it without adult help.
When completed, the Abbey stands about 16" tall and sits on a laminated mat (about 32" X 23") depicting the Abbey grounds.
Included Figures
The Redwall Warrior's Code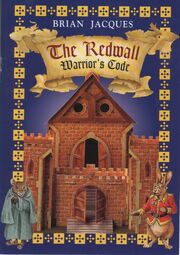 The Redwall Warrior's Code is a 16-page short story written by Brian Jacques included with the Build Your Own Redwall Abbey model kit. It takes place before the events of Redwall.
Summary
Through a series of riddles, Matthias, Cornflower, Abbot Mortimer, Brother Alf, Constance, Brother Methuselah and the other inhabitants of Redwall Abbey try to find the Warrior's Code, set down by Abbess Germaine.
In The Gatehouse, Methuselah reveals a riddle about the Warrior's Code inside an old journal of Abbess Germaine.
It takes them to the Abbott's dormitory, where a new riddle is found. The crew is then led to The Kitchen, where yet another riddle is discovered on a cider barrel of Ambrose Spike. These lines take them to Great Hall, where the remainder of the Warrior's Code is unveiled.
Community content is available under
CC-BY-SA
unless otherwise noted.