Columbine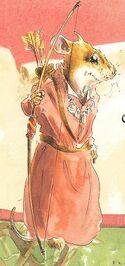 Columbine was originally from Loamhedge Abbey and later became a resident of Mossflower Woods. She was the wife of Gonff the Mousethief, the mother of Gonff II, and the ancestor of Dandin, Bryony, Samolus Fixa, Bisky, Andio, and the Gonfelin Thieves.
Belying a superficial demeanor with a propensity to giggle, Columbine was actually very intelligent, possessed a remarkable sense of strategy, and was very skilled at negotiations, especially with Chibb, the reluctant spy. A mouse with a great heart, Columbine even extended her compassion to her enemies and deplored their living conditions. She also had great talents for healing and was a dedicated nurse. A wonderful cook and very pretty, Columbine was the ideal heartthrob for Gonff the Mousethief. She, in turn, was immediately taken by his roguish charm.
While Martin the Warrior and Gonff left for Salamandastron, Columbine stayed in Mossflower to support Bella of Brockhall, Lady Amber and Abbess Germaine in rescuing Ferdy and Coggs Stickle from the Kotir dungeons. During this struggle, she displayed many talents invaluable in battle. She was very adept at explaining Foremole's plan for attacking Kotir to the Corim. She also had very good leadership skills and common sense in battle situations. Although she was a beginner, she was a decent shot with the squirrel Bow and Arrow.
After freeing Mossflower she lived at Redwall Abbey, where Columbine and Gonff had a son, Gonff II, who inherited his father's thieving abilities.
Once, her husband stole the jewels of the Great Doomwyte Idol and offered them to her, which she refused as the jewels had seen many evil deeds and told Gonff to hide them believing they would bring ill fortune.
Trivia
A columbine is a type of flower.