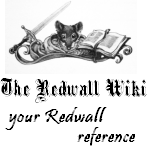 How to contact the Redwall Wiki, your Redwall news and information resource
LordTBT is the lead administrator, webmaster, and chief contact for anything related to the Redwall Wiki.
For all inquiries, inclusive of press, advice, guidance, counsel, etc. contact LordTBT via his talk page or by e-mailing
If you have copyright enquiries, please see here.