Fraybie Nutworth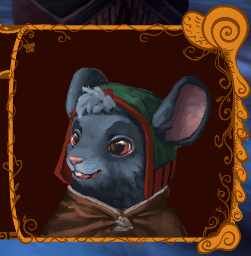 Fraybie Nutworth was a Lilygrove resident, a member of the Lilygrove Scout Corps, and a good friend of Laban Rushwittles. He loves cheese, particularly Stilton.
Fraybie designed the Scout Corps' stealth maze.
Official Description
Fraybie is the newest Scout apart from Liam and is anxious to prove he's got the mettle for the job, but is also obviously insecure about the matter. Spunky, energetic, fun, and social, this cheese fanatic is never short on energy but is short on temper. And just plain short. He is superbly sensitive about his height and doesn't take kindly to teasing, but it's just as easy to win back his good graces as it is to loose them. He is a simple mouse of simple pleasures: food, warmth, food, and fun. He would much rather be around others than alone, so team scouting missions are his favorite. Laban and him became best buddies after joining the Scout Corps even though they always hung out as part of the dibbun generation. Its the perfect relationship since Fraybie gets to do all the talking (his personal passion, and boy is he good at it).