Gerul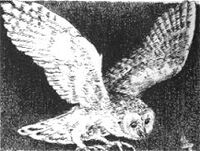 Gerul was a young adult male barn owl. He was a good friend and traveling companion of Clecky and presumably lived with him in the Northlands. After meeting Martin II and his search party at the quarry, Gerul settled quite comfortably into the life at Redwall Abbey, defending the Redwallers against the gulls of Grall.
He greatly enjoyed food and was generally a kind and laid-back bird, but could hold his own in battle. Along with Clecky, Martin and Skipper, Gerul helped track down Lask Frildur and his lizards through Mossflower Woods after the Monitor General had captured Abbot Durral. However, he was wounded in the ensuing battle and was sent back to the abbey to recover. Although his wing was damaged, making him unable to fly for some time, the intrepid owl eventually regained his flying ability while chasing the husk of a honeybee as it was caught in a gust of wind.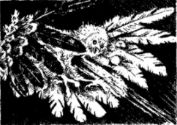 At the Abbey, Gerul was greatly instrumental in helping Tansy, Craklyn, Rollo and Piknim find the missing pearls. His knowledge of birds and great powers of observation and deduction served well in solving several clues needed to recover the pearls. His courage also allowed him to fight almost alone against the jackdaws of St. Ninian's church. Although he was once again terribly wounded, he quickly recovered.
Gerul had the peculiar and funny habit of frequently quoting his mother's advice and had a quaint northern accent. He and Clecky teased one another mercilessly.
Not to be confused with Garul.