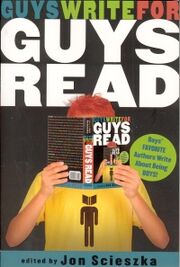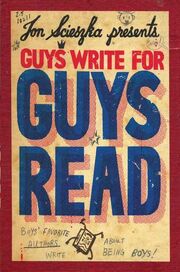 Guys Write for Guys Read is a book featuring short stories and illustrations put together by author Jon Scieszka for his Guys Read literacy program. The book is designed for young males, and features a male-exclusive list of contributors.
Along with authors and illustrators Walter Dean Myers, Dan Gutman, Chris Crutcher, Avi, Dav Pilkey, Stephen King, Daniel Pinkwater, Jerry Spinelli, Will Hobbs, Chris Van Allsburg, Laurence Yep, and Lane Smith; Brian Jacques made a contribution to the book, where proceeds go to the Guys Read program.
A Casualty of War
The short story Brian contributed is entitled A Casualty of War, and it is about 3 pages long. It is a narrative told from the point of view of a 6-year-old boy living in Liverpool during World War II. The war has just ended, and the boy and his friend Georgie are watching a convoy of United States troops parade through the street. After watching several U.S. films, the only thing the boy wants to try is American bubble gum, and manages to succeed in acquiring some Juicy Fruit from a passing grinning soldier. Celebrating with his friends on the nearby curb, a Highland sergeant accidently tramples the boy's foot. Right as he panics, his Uncle Charlie arrives, takes him home and applies medical attention, claiming the child is a now true war-wounded soldier.
Release details
2005, UK, Viking Juvenile, ISBN 0670060070, Pub. Date: April 2005, Hardcover
2006, US, Scholastic, ISBN 0439864240, Pub. Date 2006, Paperback
2008, US, Viking Juvenile, ISBN 0670011444, Pub. Date April 2008, Paperback