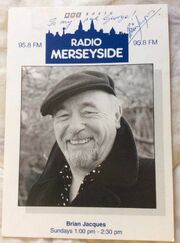 Jakestown was the title of a weekly radio program hosted by Brian Jacques from about 1970 until October 2006. The show was aired on 95.8 FM BBC Radio Merseyside, in Liverpool.
The program consisted of comedy, opera, and international music, and went from 5:30pm - 7pm on Sunday afternoons.
In September 1980, Brian Jacques won the National Local Radio Award for light entertainment.
Jakestown started each week with the song "My Liverpool"; the song was performed by the Liverpool Fishermen. The song is also the first work to appear in the book Jakestown: My Liverpool. The following verse could be heard in the intro:
The drizzle on the cobbles in the early mornin', that's my Liverpool.
With a half eaten butty an' yer lace undone, y'gonna be late for school.
There's a ship with a cargo of containers coming in through the locks
an' a bus with a cargo of hangovers headin' down to the docks.
My Liverpool's a town of dogs an' kids all kickin' up in the street
Won't you give that dog a bone, Ma. Give that kid a sweet.
An' the people know how to treat a stranger See that open door
If You've never had a plate of my Ma's scouse, then you've never lived before
It's roarin' bustlin' open wide, the northwest gate to Merseyside.
In 1987, a cassette tape was released with programming from Jakestown.
Introduction to
Jakestown
, Brian references Billy Dean and
Billy Maher
(
file info
) —
Community content is available under
CC-BY-SA
unless otherwise noted.