Laban Rushwittles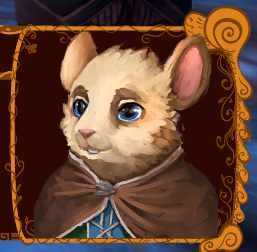 Laban Rushwittles was a Lilygrove resident, a member of the Lilygrove Scout Corps, and a good friend of Fraybie. He loved rosemary, and hated cabbage.
History
At some point in his life, Laban joined the Lilygrove Scout Corps. Because he had the best sense of smell in all of the Scout Corp, Laban was put in charge of teaching new initiates how to sniff out scents and use them to their advantage. To help with his teaching, Laban created a cave system containing different food items and fake mechanical rats that forced initiates to rely on their noses to solve challenges.
Official Description
Laban is the big-quiet type. Notably large for a mouse, in both directions, he is surprisingly nimble, perceptive and very good at the business of scouting. This is aided by his better-than-average nose. But he is also quiet and tends to listen more than he speaks. Laban comes off a little slow with his deliberate attitude. He has a small lisp that adds to the effect but he's actually a brilliant mind. He's precise, deliberate, and thoughtful. He is a mouse of few words and makes sure everything he says is concise and necessary. He is easily lost in thought and sometimes ignores people without meaning to.