Liam Rivermouse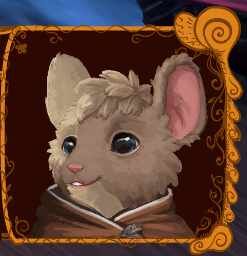 Liam Rivermouse was a Lilygrove resident, the betrothed of Sophia Ryemaid, and a member of the Lilygrove Scout Corps. He is one of the two main protagonists of The Scout.
Liam graduated the Scout Corps one week prior to Sophia.
While hosting a graduation party for Sophia, he was attacked by sea rats who operated under Cluny the Scourge's banner. He becomes wounded after Scumsnout bites him.
Official Description
Liam was born and raised in Lilygrove by a family of poor mice with 9 brothers and sisters with Liam being the second youngest and the seventh son. His parents settled here after traveling west from the region near Castle Floret seeking a better life and they worked hard on the local farms to provide a reasonably good life for their children but Liam is the pride of the entire family as he'll be the first 'professional' in the family once he's officially a Scout. Graduation day will be a proud moment for his entire family.
Liam is a little portly, a bit self-conscious about that, and compensates by always being quick with a smile and a joke. He earned a reputation as being congenial, kind and a bit of an entertainer. But underneath the mirth Liam feels the pressure to achieve something for his family line and his congeniality can disappear instantly when he's under stress. His kindness overlays a mouse who is driven and strong willed and every once in a while he can turn to sarcasm when pressed and when he does - Liam has a wicked tongue.
Liam has of course largely grown up with Sophia but something changed when they both applied to be trained as scouts. He was immediately smitten by the charming young beauty and since that day his heart has been unquestionably hers.