Pickerel Starthistle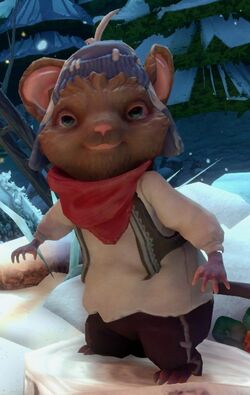 Pickerel Starthistle was a Lilygrove resident and one of the last remaining direct descendants of the Starthistle family who founded the town. He was the brother of Cap'n Jeb. Pickerel had a secret study in the Lilygrove catacombs, and was a historian for the region.
Official Description
Pickerel lives in the deepest part of the catacombs beneath Lilygrove. The villagers think of him as a harmless old coot who's part genius, part eccentric - which may be true, but he is also one of the last descendants of the Starthistle mice who founded Lilygrove long ago.
Cap'n Jeb is Pickerel's brother and only remaining relative. The brothers spent their youth adventuring, but eventually Pickerel returned to live in the peace and quiet of his family's legacy in Lilygrove, while Jeb moved to a small hut in the forest. Due to a disagreement over the importance of the preservation of the Starthistle family's legacy, the brothers have, unfortunately, not spoken in many seasons.
While Pickerel is a well-known and accepted member of the community, he's seen as quite mysterious and quirky due to his hermit-esque ways. Regardless, he is friendly and open to sharing his knowledge with those who show interest. To those he believes are worth his time, he is a wealth of old stories, medicinal wisdom, and musical prowess.