Captain Raphael "Rafe" Granden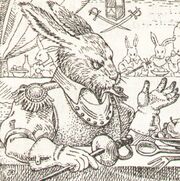 Captain Raphael "Rafe" Granden was a male hare of the Long Patrol of the mountain fortress Salamandastron under the badger lord, Lord Mandoral Highpeak. He was tall and sinewy with sable fur, and he had a scar running down his face from eartip to jaw. He wielded a basket-hilted rapier. Granden was the one who revealed the truth of Cuthbert Blanedale Frunk's past to Tiria Wildlough upon her arrival to the mountain. He was instructed by Mandoral to take command of thirty hares (hand-selected by himself) and accompany Tiria on her mission to free Green Isle from Riggu Felis and his feral cat army.
Upon reaching the island after a journey aboard the ship, Purloined Petunia, Granden took full command, ordering the hares to inspect their arms and ensure that they had everything for the march and the impending battle.
During the march inland, Granden took up the position of rearguard. Once the Long Patrol united with the otterclans, Granden became a member of the Council of War, along with Cuthbert, O'Cragg, Kolun, Lorgo, Banya and Tiria. During the final battle with Pitru, Granden was ordered by Cuthbert to follow slowly behind the rest with his soldiers ordered into ranks of three. Following the events on Green Isle, Granden -- along with the rest of the Long Patrol -- returned to Salamandastron.