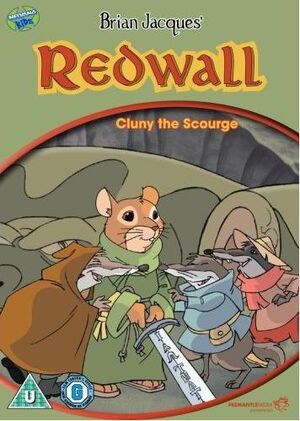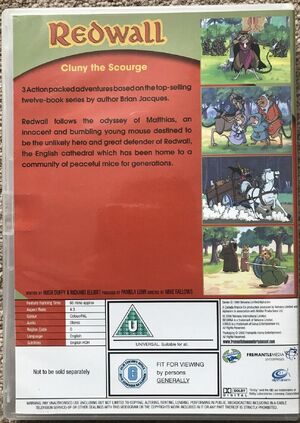 Redwall: Cluny the Scourge is a UK Region 2 Redwall TV Series DVD released June 9, 2008. It consists of the first three episodes of Redwall - Season 1, namely Cluny the Scourge - part I, Cluny the Scourge - part II, and Treachery.
Official Summary
3 action-packed adventures based on the top-selling twelve-book series by author Brian Jacques.
Redwall follows the odyssey of Matthias, an innocent and bumbling young mouse destined to be the unlikely hero and great defender of Redwall, the English cathedral which has been home to a community of peaceful mice for generations.
Based on the novel by Brian Jacques, REDWALL follows the animated adventures of Matthias, a brave young mouse living in Redwall Abbey.
When the abbey is besieged by Cluny, an evil rat, Matthias must draw on the wisdom of a revered warrior and his own courage to save his adopted home.
Episodes
Community content is available under
CC-BY-SA
unless otherwise noted.