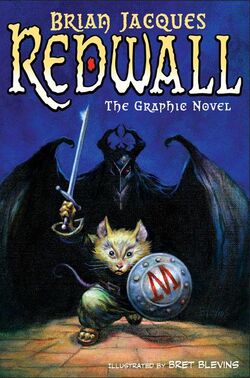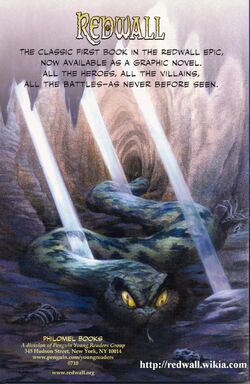 Redwall: The Graphic Novel was published in 2007 exclusively in the U.S. by Philomel as a comic book adaptation of the first book in the saga, Redwall. Illustrations are in black and white.
It was released alongside Eulalia! and the Redwall 20th Anniversary Edition.
Official Summary
When the peaceful life in and around ancient Redwall Abbey is shattered by the arrival of the evil rat Cluny and his villainous hordes, Matthias, a young mouse, determined to find the legendary sword of Martin the Warrior which, he is convinced, will help Redwall's inhabitants destroy their enemy.
Awards
Differences From Redwall
Trivia
In Redwall.org's Ask Brian, Volume 4, a reader asked if Brian Jacques "ever thought of producing a Redwall comic book or graphic novel?" The response was "No." Approximately five years later, this adaptation was published.
See Also