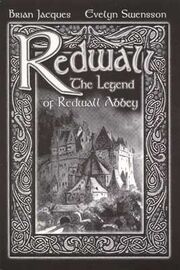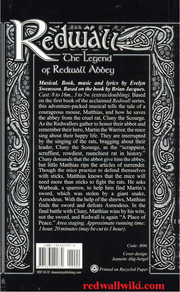 Redwall: The Legend of Redwall Abbey was a two act children's musical based on the book Redwall published by DramaticPublishing. It was officially published on May 5, 2004; Vince Leonard contributed the orchestrations.
The premiere was on March 7, 1998, at the Grand Opera House in Wilmington, Delaware. The original OperaDelaware production was directed by Leland Kimbal, with music conducted and directed by Evelyn Swennson.
The musical has an approximate running time of 80 minutes, but may be cut down to an hour if desired.
See here for excerpts from the script.
The script itself is around 80 pages in length.
Promotional CD
A promotional CD featuring samples of the following songs from the musical is also available from DramaticPublishing:
Brothers of Redwall
Redwall Abbey
Cluny, The Scourge
Cluny, Cluny
We Are Ready
Whenever You See a Wrong
Song of the Shrews
Song of Asmodeus
I Apologize
Cast from the premiere
Photo Slideshow
This YouTube video is a photo slideshow from a performance of the play, circa 1998 (no audio).
Video
The following consists of short, not-the-greatest-quality video clips from the play. The YouTube user contributed other clips, but the quality is so poor that there is no reason to showcase them here.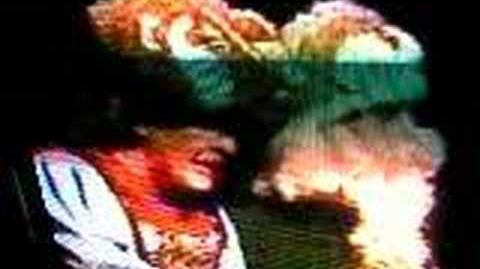 Redwall opera scene
Redwall the opera
Community content is available under
CC-BY-SA
unless otherwise noted.