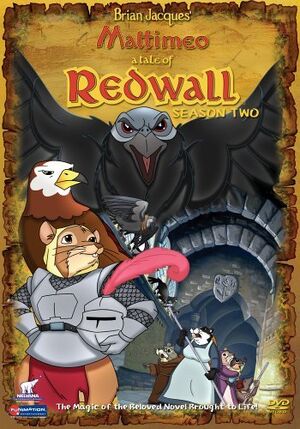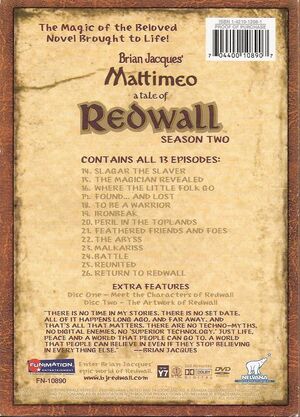 Redwall - Season 2 is the second season of the Redwall TV Series. It is based on the novel Mattimeo.
The Season 2 two-disc DVD set contains all 13 episodes.
In succession to the DVD release of Season One of the Redwall TV Series, Funimation continued to release the following seasons. The second one, Mattimeo was really the product of all the experience and improvement on the first. Where the first diverges from the storyline, the second develops, there being far less departures from the actual story. A collection of DVDs and videos have been released in the past for both Season 1 and Season 2 for Region 2 European DVD players and VCRs. Eventually, parts of the first season, the original story, was released in several forms and divisions. The release of Season 2 marks the first real release of Mattimeo for DVD formats other than European.
View all of the Season 2 PBS episode featurettes at once here.
Episodes
Other Countries
France
In 2003, an eight-volume DVD set of the show was released in France. The last four volumes contain season two.
Germany
Russia
In 2003, a three disc set of the show was released in Russia.