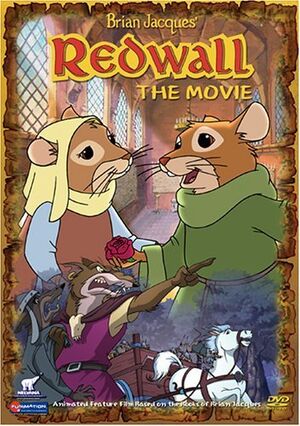 Note: This was not a big screen adaptation. For more information on efforts to bring Redwall to a movie theater, please see Redwall Film Adaptations.
Redwall: The Movie is a DVD that contains the "Redwall movie", an abridged version of season one of the Redwall TV Series. It was released in the USA by Funimation Productions.
Most of the "original" material (such as the episodes "Cluny's Clowns" and "The Visitor") has been cut out, so this "movie" stays true to the book for the most part.
Official Summary
An unlikely hero... A villain from the past... An impossible quest...
Redwall is a compelling tale of fantasy, courage and adventure; the fable of a daunting quest to recover a legendary lost weapon and the classic struggle between good and evil. The delightful world of Redwall - a place of peace and beauty, companionship and courage - has captured the dedication of millions of readers worldwide. See the story brought to life!
Features
Meet the Characters of Redwall
Cast
Community content is available under
CC-BY-SA
unless otherwise noted.