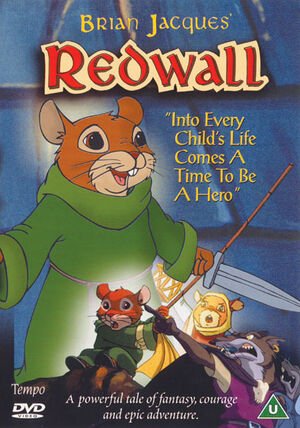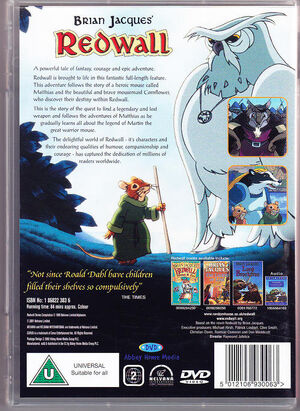 Note: This was not a big screen adaptation. For more information on efforts to bring Redwall to a movie theater, please see Redwall Film Adaptations.
Redwall - The Movie (1999) is a DVD (also available on VHS) that contains the Redwall Movie, an abridgment of the episodes of Season 1 of the Redwall TV Series with the result being a feature-length film.
Most of the 'original' material (such as the episodes "Cluny's Clowns" and "The Visitor") has been cut out, as well as some canon material.
Official Summary
A powerful tale of fantasy, courage and epic adventure.
Redwall is brought to life for the first time in this fantastic full-length feature. This adventure follows the story of a heroic mouse called Matthias and the beautiful and brave mousemaid Cornflower, who discover their destiny within Redwall.
This is the story of the quest to find a legend and lost weapon and follows the adventures of Matthias as he gradually learns all about the legend of Martin the great warrior mouse.
The delightful world of Redwall - it's characters and their endearing qualities of humour, companionship and courage - has captured the dedication of millions of readers worldwide.
Cast
Community content is available under
CC-BY-SA
unless otherwise noted.