Redwall AbbeyCraft: The Corsair's Last Treasure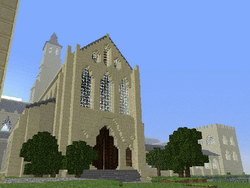 | | |
| --- | --- |
| Developer(s): | Soma Games |
| Publisher: | Soma Games |
| Released: | August 9, 2013 |
| Genre: | Open World Adventure |
| Platforms: | PC/Mac (Played within Minecraft) |
Redwall AbbeyCraft: The Corsair's Last Treasure was a Minecraft adventure map that served as the precursor to The Lost Legends of Redwall. It covered approximately 16 square kilometers of territory in every direction from Redwall Abbey. To utilize the map, a copy of Minecraft was required, which cost $26 at the time of its release. Early usage required minimum $5 donation to the Lost Legends of Redwall Kickstarter; early access to a private AbbeyCraft server required a minimum $39 Kickstarter pledge. Both later became publicly available for free.
As of 2021, the Minecraft server has been discontinued. The server and map have been archived by Soma Games and are available to download for free below.
Getting Started
On Windows
Access Windows Explorer (Start -> Run -> Explorer or Windows Key +R -> Explorer)
In the Search bar, search for %appdata%
Select the .minecraft folder
Select the 'saves' subfolder
Extract the directory within the zip file to the 'saves' subfolder
Launch Minecraft
Select Singleplayer
On the World Select screen, choose AbbeyCraft and play!
On Mac
Access Minecraft Saves Folder in your Finder (Library -> Application Support -> Minecraft -> Saves)
Decompress/Extract the AbbeyCraft directory (probably in your Downloads folder) and drag or copy to your Minecraft 'Saves' subfolder
Launch Minecraft
Select Singleplayer
On the World Select screen, choose AbbeyCraft and play!
Official Synopsis
You are a young mouse that has just been accepted as a novice to the famous order of Redwall Abbey. Under the fatherly guidance of Abbot Cedric you begin your training in the healing arts that have made Redwall a place of refuge and sanctuary for all the peace-loving woodlanders of Mossflower Wood.
But a grave danger threatens the lives of all woodlanders and even the celebration of your first day at the Abbey is clouded by news of a dreaded plague – Dryditch Fever.
Entrusted with a desperate mission to solve the riddles of Abbess Vale and find the lost treasure of the feared corsair Deadeye, you must travel the ways and wilds of Mossflower Woods to save the sick molebabe of Lilygrove and stem the spread of the dreaded sickness.
Plot
A young mouse quests to Redwall Abbey to become a healer during the time of Abbot Cedric.
After meeting the Abbot, the mouse performs some basic tasks around the Abbey before venturing into the Infirmary, where he receives a book on brewing potions.
Gameplay
Map Locations
Official Server
redwallserver.somagames.com:25638
Player Videos
External Links