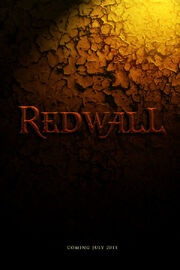 Is there a Redwall movie?
A Redwall movie is in development by Netflix. Redwall has had a history of attempts to receive a big screen debut, however every single one has failed.
In 1991, London-based Molitor Productions acquired the film rights to Redwall. Molitor later produced the Redwall TV Series, and according to a 1998 Wall Street Journal article, was going to produce an animated film afterwards. The latter never occurred.
In May 1993, The San Diego Union-Tribune and the Tacoma, Wash., The News Tribune reported there was a Redwall "movie deal" and that there would be a movie in "a year or two."
In 1996, it was reported by the Chicago Tribune that movie deals were in the works for two Redwall novels. What became of these plans is unknown.
In an undated Brian Jacques interview with Scholastic from the 1990s, Spring 1999 was stated as the "projected date" for a U.S. Redwall movie.
In 1999, Brian Jacques stated via Redwall.org that a film adaptation of Martin the Warrior was "in the very early stages of script writing." It seems as if this fell through largely due to the fact that Nelvana was working on the Redwall TV Series at this time. Also during this year, the Sacramento Bee mentioned a Redwall "feature film" was forthcoming.
In 2002, it was reported by the Liverpool Daily Post that Brian Jacques was involved in talks with Steven Spielberg, who had "expressed an interest in turning the tales into one of his blockbuster movies," and Jacques was "still waiting for news on that."
In 2003, Brian Jacques was asked about adapting his works to film on an episode of British children's TV show Blue Peter. He responded "The people are always coming to me, you know, from Hollywood, and they call me 'Mr. Jack-wez' there, you know. 'How do ya say, Mr. Jack-wez?' And I don't mind. Let them, as long as they keep the integrity of the books."
In 2008, the Redwall Wiki first reported the existence of redwallthemovie.com, a domain owned by Seattle-based production company, Imagen Films, who stated in an e-mail that they had "secured film rights and [were] developing a live-action/CG version of Redwall" for the year 2011. This was revealed to be a lie in 2009, according to Redwall.org.
On February 4, 2014, production company Working Element (later purchased by RegalWorks) was revealed to have Redwall in its portfolio. In June 2014, it appeared on IMDB under "optioned" status.