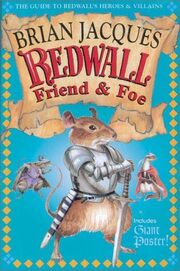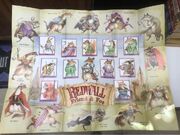 The Redwall Friend & Foe was published on October 1, 2000 as an accessory to the Redwall series.
Summary
This guide featured art by Chris Baker and contained descriptions of Redwall Heroes and Villains. It also featured a quiz to test your Redwall knowledge, and a pull-out poster. The Redwall Friend & Foe is currently out of print.
The official product synopsis is as follows:
Do you know friend from foe?
In the world of Redwall, knowing your friend from your foe can mean the difference between life and death! Celebrate Redwall's loyal heroes and condemn its villainous vermin with this guide to who's hot and who's not in Brian Jacques' best-selling books.
This pack contains a pull-out colour poster featuring Redwall's friends and favourites, plus a booklet packed with puzzles, quizzes, information about key characters, and a fantastic introduction from Brian Jacques himself.
Heroes
The heroes featured in the guide are:
Villains
The villains featured in the guide are: