The Redwall Gift Set was first released October 7, 1999, by Red Fox exclusively in the UK.
It contained three Redwall books in paperback: Martin the Warrior, Mossflower, and Outcast of Redwall.
The marketing copy says it includes "the first three titles" in the Redwall series, however this is not accurate.
The Redwall Gift Set is one of five English language Redwall Book Collections.
Product Description
Enter the magical world of Redwall and learn of its legends.
This special gift set brings together the first three titles in the classic Redwall series. Starting with Martin the Warrior, these books follow the adventures surrounding the foundation of the legendary Redwall Abbey. Together they form the perfect introduction to an epic history which spans twelve novels and is woven together by magical word-smith Brian Jacques.
Martin the Warrior
Badrang the stoat has a vision of supreme power, and only one thing can stop him, a young mouse called Martin who will fight for freedom - at any cost.
Mossflower
Martin strays into danger when he stumbles into the wildcat territory of Mossflower Wood. And so begins another adventure for this brave warrior.
Outcast of Redwall
When a young creature is banished from Redwall Abbey, a mousemaid is forced to make a heartbreaking choice - a decision which links her destiny to... the Outcast of Redwall.
Feature
This item was featured in the Redwall Collectors Community series.
Were you looking for Redwall Book Collections?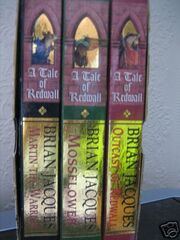 Community content is available under
CC-BY-SA
unless otherwise noted.