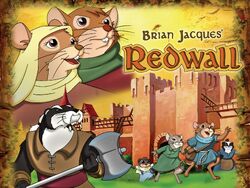 The Redwall animated television series, also known as Brian Jacques' Redwall, was a three season adaptation of Redwall, Mattimeo, and Martin the Warrior that was originally broadcast from 1999 until 2002.
Produced by Nelvana, a Canadian animation studio, the series airs re-runs on some PBS channels in the U.S., and occasionally airs on Teletoon in Canada. Each episode is around 22 minutes in length, or 30 minutes with commercials.
Brian Jacques introduced each PBS episode, which also closed with an educational featurette that offered a lesson on an aspect of the show. These featurettes were never included in DVD or home video releases.
The first Redwall TV series episode aired September 12, 1999; the final episode was aired February 19, 2001. The TV series aired the first episode in the U.S. on PBS on April 1, 2001. The series finale aired in the U.S. on July 28, 2002.
Redwall TV Series Production & History
Production of the Redwall TV Series was led by creator, developer, and writer Steve Roberts. Brian Jacques consulted on story.
Redwall was originally created by Cambridge Animation Systems' Animo software, which became property of Toon Boom Animation Inc. in 2009.
To view exclusive storyboard artwork from the Redwall TV Series, as well as production artwork, see here and here.
The production company for the Redwall TV series was Molitor Productions Ltd.
Originally, PBS declined to distribute the series over concerns of violence for younger audiences, however the target demographic was school-aged kids. Nelvana worked with American Public Television to distribute Redwall as a free program offer and achieved an approximate 70% carriage rate on PBS stations across the U.S.
Seasons
There are three seasons of the Redwall TV. For more information on individual seasons and episodes, please see their articles:
Episodes
There are 39 episodes of Redwall.
See a list of all episodes here:
Executives & Crew
Directors: Raymond Jafelice (Redwall / Mattimeo), Luc Bihan (Mattimeo / Martin the Warrior)
Co-director: Pascal Pinon
Assistant Directors: Tony Tarantini, Karen Lessmann, Brian Lee, Sean Jeffery
Executive producers: Michael Hirsh, Christian Davin, Patrick Loubert, Clive A. Smith, Dan Maddicott, Peter Volkle, Ramsay Cameron
Supervising producers: Stephen Hodgins, Patricia R. Burns, Jocelyn Hamilton
Line producers: Lynne Warner, Corine Marcel, Marissa Collyer, Reka Temple
Adapted by: Michelle Goodeve, Brian Jacques, Glenn Norman, Steve Roberts, Tony Roberts
Story Editor: Steve Roberts
Theme by: Jack Procher, Daniel Fernandez
Music Supervisor: Stephen Hudecki
Music assistant: Helena Werren
Sound editing and supervision: Super Sonics Productions Inc, Scot McCrorie, Christopher G. Harris, Evan Turner, Hamish MacKenzie, Sheila Murray, Richard Omari Segal, Gregg Downing, Alfie Pucchio
Sound re-recording mixer: Michael Liotta
Sound Mixer: Tim Regan
Score Composed by: Acrobat Music
Casting and Voice Directors: Jessie Thomson, Karen Goora
Casting Administrator: Karyn Tester
Casting Co-ordinator: Christine Geddes
Casting Assistant: Carrie Justason
Developer: Steve Roberts
Film editing: Christopher Gould
Production Supervisors: Steve Chadwick, Ruta Cube, Brad Markewitz, Akos Sarenczky, Bea Banyasz
Pre-Production Supervisor: Liza Vespi
Pre-Production Editing: Terry Carter, Rick Dubiel, Curtis Harry, Ken Hurlbut, Steve Keeping, Lex MacCrimmon, Colin McMahon, Shelley Mills-Hughes, Richard Segal, Kent Theaker, Geoff Walton, Henry Watkins, Peter Winninger
Production Managers: Diane Dallaire, Marissa Collyer, Istvan Erdos
Production Coordinators: E. Stephanie Kravos, Frederique Monfort, Claire Dame, Wendy Courtney, Andrew Fineberg, Syuyoung Park, Ryan Kuba
Production Assistants: Caroline Simmons, Stephen Lategan
Production Secretaries: Anthony Henry, Suzanne Belec
Technical Team: Zsolt Fabian
Script Co-ordinator: Karen Moonah
Creative consultant: Chris Baker
Design supervisors: Alan Knappett, Rob Shedlowich, Loryane Tunley
Design coordinators: Marta Matson, Sheila Dinsmore, Dan Mokriy (compositor), Sheila Rogerson
Design facility: Wack Wack Studio
F/X supervisor: Mike McKay
Special Effects designer: Lorenzo Del Bianco
Director's Notes: Niall Johnston, John De Klein
Lip Sync: Cathy Parkes
Overseas supervisors: John De Klein, Simon Ward Homer
Designers: Todd Kauffman, KoKo Maung, Mark Poulin, Pat Rowsome, Marijan Trpkovic, Christopher D. Williams, James Wood, Isabelle Python, Katia Surmenian, Jean-Charles Ripell
Key animation/animation posing supervisor: Cynthia Ward
Storyboard Artists: Karen Lessman, Aare Voitk, Raymond Jafelice, Dimitrije Kostic, Patricia L. McDougall, Andrew Tan, Brian Lee, Rui Albino, Bob Muller, Christophe Huthwol, Thierry Martin, Stephane Vermuelen, Pascal Pinon, Gilles Dayez, Jean-Pierre Jacquet, Frank Ramirez, Mitch Manzer, Kerry Sargent, Karen Lloyd, Jun Nasayao, Steven Ahola, Lisa Whittick (uncredited)
Storyboard Clean-up Artists: Jun Nasayao, Scott Bennett, Kevin Klis, Jim Nakashima, Winky Wong, Russ Tonks, Dave Pietila, Terry Rotsaert
Storyboard Coordinators: Allan Parker, Dinah Postma
Storyboard Clean-up Supervisor: Dave Quensnelle
Layout Artists: Vincent Simpson, Luc Latulippe, Gord McBride, John Riley-Cooper, Chris Minz, Daniel Poitras, Frank Ramierz, Gordon Hargreaves, Greg Gibbons, Tony Tarantini, Evan Purcell, Heidi Blomkvist, Michael Daze, Ron Wilson, Chad Hicks, Peter Hugean, Kevin Klis, Karen Moonah, Suzanne J. Cardona, Dennis Gonzalez, Tom Crook
Layout Supervisors: Paul Riley, John Stevenson, Lyndon Ruddy, Eugene Hawkley, Ron Wilson
Color stylists: Trudy Binder, Dylan Wickware
Colorist: Colin Moore
B'grounds: Mike Doherty, Michael Hitchcox, Christine Rother
Background supervisor: Sandra Catherine Yeaman
Background artists: Gary Hunt, Don Gauthier
Paint and Compositing: TV-Loonland AG
Video Technician: James Jacobs
Sound Effects Editors: Ryan Araki, John Baktis, Evan Turner, Eric Mattar-Hurlbut, Hamish MacKenzie, Craig Marshall
Supervising Sound Editor: Scott McCrorie
Recording Assistants: Edmond Chan, Kerry Bones
Re-Recording Engineer: Andy Koyama
Music Editors: Peter Branton, Anthony Crea, Mike Northcott
Dialogue Editors: Keith Traver, Brian Fraser, Sean Pearson, Peter Winninger, Ken Hurlbut, Terry Carter, Geoff Walton, Rob McMahon
Translation: Francoise Boublil, Jean Helpert
Toutenkartoon: Frederic Mauxion (production manager), Sylvie Atorres, Pascal Jardin (assistant director), Stephane Pogran (technical advisor), Jean-Michel Spiner (studio manager)
Post Production Director: Rob Kirkpatrick
Post Production Managers: Lan Lamon, Daphne McAfee
Post Production Administrator: Ann McGuire
Post Production Supervisor: Samara Melanson
Post Production Co-ordinator: Brian Marsh
Post Production Assistants: Joey Aguiar, Michael Goldsmith
Supervising Sound Editor: Steve Cole
Picture Editor: Al Maciulis, Richard Bond, Karen Saunders
On-line Editor: Brian Karn (uncredited)
Business & Legal Affairs: Suzanne L. Cross
Assistant Picture Editors: Graham Long, Doug Appeldoorn, Mia Randles
Supervising Pre-Production Editor: Darrell MacDonald
Supervising Breakdown Editor: Rick Dubiel
Recording and Transfer Technician: Mike Reid
Animation Crew: Rg Prince Film Inc.
Additional Production Facilities: McClear Pathe, Magnetic North
The soundtrack for the show was performed by the Czechoslovak State Orchestra.
Voice Cast

Redwall Season One Intro


Season 1 - Redwall

Redwall Season Two Intro


Season 2 - Mattimeo

Redwall Season Three Intro


Season 3 - Martin the Warrior
Redwall TV Series Awards
Nominated:
Gemini Award - Best Original Music Score for a Dramatic Series (2001)
Gemini Award - Best Original Music Score for a Dramatic Series (2002)
Video/DVD Releases
DVDs and VHS video cassette tapes of the Redwall TV series have been released in many regions.
In 2006, Season 1, Season 2, and Season 3 became available on Region 1 DVD.
In late 2009, Nelvana signed an agreement with Phase 4 Films to manage their children's show DVD releases. In 2010, the Redwall TV series DVDs were released by the KaBOOM! Entertainment Inc. division of Phase 4.
See International Redwall DVD Releases for more information.
Online Streaming
The Redwall TV series is available for streaming from Amazon Instant Video, iTunes, and Tubi services. A brand new Netflix Redwall movie adaptation and event TV series is in development as of 2021.
Does Netflix have Redwall?
Yes, Netflix has the series rights to Redwall. It is currently working on a new TV series and movie adaptation.
Amazon Instant Video
iTunes
Tubi
IMDB