The Redwall Wiki is a communal source for all things Redwall, and as a result this applies to articles on specific people, including artists, illustrators, and members of the online community.
This page serves as a guide to explain what to include when writing these articles.
Information
If information and/or pictures are freely and widely available in the public domain, it is perfectly acceptable to include said information and/or pictures in a Redwall Wiki article regarding specific people, unless otherwise specified by the person.
Someone doesn't like their article
If Redwall Wikians feel an article is relevant regarding a specific Redwall personality, it will in all likelihood be written, as this is the wiki way. The Redwall Wiki is not intended to hurt or libel anyone; only provide pertinent information. As such, if someone has problems with information listed in their article, they should request it to be removed.
In general, it is sensible not to include people who do not wish to be included on the Redwall Wiki. This is usually not a problem if they really don't want to have a presence here.
However, the Redwall Wiki is also not a democracy, and if editors feel the article is necessary, it will remain, with restrictions.
If there is specific information someone does not want in their article, it will be listed under "Do Not Post" on the talk page. It is required to abide by this ruling.
What kind of person doesn't need an article
Plain and simply put, minor members of the community. If someone is responsible for making posts on a few forums here and there, this is not Redwall Wiki article material.
Process for dealing with Personal Articles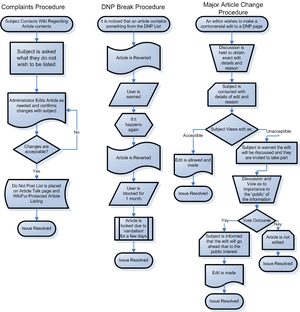 Here is a possible process for dealing with Personal Article restriction requests.