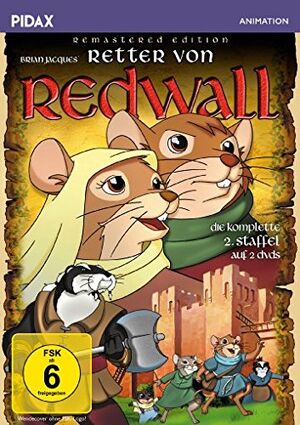 Retter von Redwall - Staffel 2 is a remastered edition of German DVDs that contain Season 2 of the Redwall TV Series.
The official product summary is as follows:
Mäuserich Matthias, der Retter von Redwall, ist wieder da. Mittlerweile hat er gemeinsam mit Kornblume einen Sohn. Diesem muss er erst beibringen, dass man sich den Ruf eines echten Kriegers erarbeiten muss. Außerdem gibt es für die Bewohner von Redwall eine neue große Bedrohung: Slagar, den Grausamen. Der Fuchs wurde für tot gehalten, ist dem Sensenmann aber wieder entkommen. Nun will er Rache an Matthias nehmen ...
RETTER VON REDWALL ist eine Animationsserie für ältere Kinder, die mit packenden Szenen, einer geschickt gestrickten Story und einer phänomenalen Musikuntermalung punktet. Pidax bringt nun die zweite Staffel mit 13 neuen spannenden Abenteuern, die auf dem dritten Buch der erfolgreichen, "Redwall" - Zyklen von Brian Jacques basieren.
Episodes