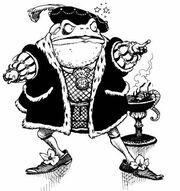 Ribbiting Tales: Original Stories About Frogs is a series of eight short stories compiled together as a dedication to fictional frog characters.
Along with fellow authors Stephen Menick, Robert J. Harris, Janet Taylor Lisle, Jane Yolen, David Lubar, and Bruce Coville; Brian Jacques contributed a story to this book.
It Came from Outer Little Pond
The story Brian contributed is entitled It Came from Outer Little Pond. The tale revolves around King Obluk, "Tsar of Tadpoles", and his wife Queen Grobug as they investigate an odd sighting at their home.
Lubwok, a frog resident of Little Pond, has returned from swimming in the pond, and tells the king he has seen a blue frog with red spots. King Obluk thinks Lubwok is delirious from eating too many water beetles, and calls on his frog citizens to investigate. Immediately, a small frog named Oik volunteers, however the king denies him this duty.
Two frog sisters, Droople and Plongg, swim out into the pond and spot the blue frog, however it smacks them both in the eye before they can do anything.
King Obluk decides to see things for himself, and swims out into the pond. The red-spotted blue frog completely ignores him, and bumps him in the chin, knocking Obluk unconscious. When he awakens in his home, he calls upon Yigbul, the Little Pond champion, to slay the intruder, yet Yigbul also returns moments later, injured.
Little Oik, having been anxious this whole time, runs to the rescue. After a series of splashes and disturbing sounds, Oik returns, having rid the pond of the beast by riding around on its back and finally throwing it out of the pond for some other creature to eat. Oik is received as a hero, and becomes the King's personal assassin.
Outside of the pond, Georgie and Katy Bigelow return home after searching for their new battery-operated frog toy, a popular item from the recent "Frognophobia" movie. They had found it right outside of Little Pond, with the battery switched off.
Release details
2000, Philomel Books, ISBN 0399233121, Pub. Date: June 2000, hardcover
2002, Puffin Books, ISBN 0698119525, Pub. Date: June 2002, paperback
2002, Sagebrush, ISBN 0613503597, Pub. Date: August 2002, paperback