Robin Springhunter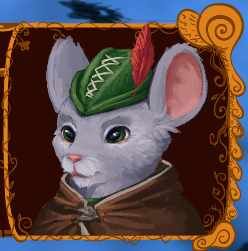 Robin Springhunter was a Lilygrove resident, and the leader of the Lilygrove Scout Corps.
He was an old friend of Valo Scrimpaw. After Lilygrove was attacked by sea rats led by Scumsnout, he tasked Sophia Ryemaid, Liam Rivermouse, and Tussa Pawsnettle with visiting Valo at Winsome Wraith.
Official Description
Robin is the leader of the Lilygrove Scouts and as such holds a position of considerable honor in the village. He is not harsh but he does take his job seriously, expecting his fellow scouts to do the same. For Liam and Sophia, Robin is both a demanding instructor and a father-figure, something especially precious to Sophia. He is proud of their choice, their hard work, and it shows. The father figure to the scouts and the most patronly man in the village, everyone, and I mean everyone, trusts him, likes him, loves him, and respects him. In another time and place Robin would also make a fine warrior. He is bold, resolute, and a natural leader.