Rootsworth Rushstalk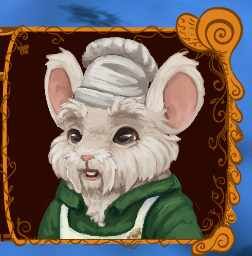 Rootsworth Rushstalk was a Lilygrove resident, and the cook for the Lilygrove Scout Corps.
Official Description
Cooking is a time-honored talent that often runs in families which is exactly how Rootsworth got started. His father and his father's father were the official cooks for the Lilygrove Scout Corps and as Rootsworth gets on in years he regrets that there is nobody to carry on the family name - as a result he's always anxious to "adopt" anybody who shows interest of skill in his trade.He's cooked for sailors, warriors, miners, and could easily stew for royalty if he had the desire, but he is content to live his life cooking for the good beasts of Lilygrove.