Sergeant Clubrush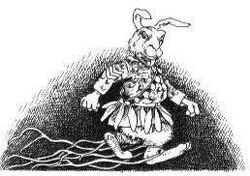 Seargeant Clubrush dressed up for a special ceremony
Sergeant Clubrush was the Drill Sergeant of the Long Patrol under Lady Cregga Rose Eyes. He was notable for keeping young recruits in check. Clubrush later marched under Lady Cregga, along with five hundred other hares, and fought Damug Warfang's hordes in the Battle of the Ridge of a Thousand. He was also an old friend of Colonel Eyebright.
Trivia
Club-rush is one of the many names for aquatic plants in the Scirpus genus.
Community content is available under
CC-BY-SA
unless otherwise noted.