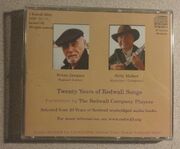 Songs from Redwall: 20 Years of Redwall Music is an audio cd containing selected songs from the Redwall Audio Books. It is exclusively offered by the Redwallabbey.com La Dita Bookshop.

The cover artwork is from The Great Redwall Feast, A Redwall Winter's Tale, and The Redwall Cookbook illustrator, Christopher Denise.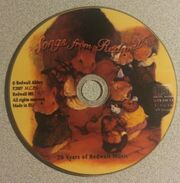 Musician/Composer: Billy Maher
Performers: Redwall Company Players
Length: 69 min. 49 seconds
Listen to a 48s sample of "Frog Song" (
file info
) —
Tracklisting
The tracklisting comes from 12 of the Redwall Audio Books.
| | Title | Book | Length |
| --- | --- | --- | --- |
| 1 | Introduction | Mariel of Redwall | 1:38 |
| 2 | Rappity Tap | Loamhedge | 1:49 |
| 3 | Song of the River | Salamandastron | 1:56 |
| 4 | Dingle Duck | Taggerung | 1:40 |
| 5 | Stars and Moon | Taggerung | 1:13 |
| 6 | Log A Log | Loamhedge | 1:09 |
| 7 | Ladies | Loamhedge | 1:44 |
| 8 | O'er the Hills | Loamhedge | 2:02 |
| 9 | Plant Song | Outcast of Redwall | 1:19 |
| 10 | Dungle Drips | Loamhedge | 0:46 |
| 11 | Tilly the Wild | High Rhulain | 1:23 |
| 12 | Frog Song | Rakkety Tam | 2:19 |
| 13 | Worm Song | High Rhulain | 1:14 |
| 14 | Skilly and Duff | High Rhulain | 0:51 |
| 15 | Dawn | Loamhedge | 1:30 |
| 16 | Paddling | Salamandastron | 1:33 |
| 17 | Education | Triss | 1:43 |
| 18 | Pull Boys Pull | Salamandastron | 0:55 |
| 19 | Peaceful Night | High Rhulain | 1:40 |
| 20 | Martin | Salamandastron | 2:08 |
| 21 | Summer Sun | Triss | 1:05 |
| 22 | Tramp Tramp Tramp | Rakkety Tam | 1:12 |
| 23 | Footlecum Dur | Triss | 1:23 |
| 24 | Barnacles | High Rhulain | 1:57 |
| 25 | Sleep Baby Sleep | Taggerung | 0:50 |
| 26 | Honey | Triss | 1:20 |
| 27 | Mouse and Mole | The Bellmaker | 1:34 |
| 28 | Rose Song | Loamhedge | 2:00 |
| 29 | Winter O | Mariel of Redwall | 0:54 |
| 30 | Algy and Bobbs | Rakkety Tam | 1:56 |
| 31 | Shrum | The Bellmaker | 0:52 |
| 32 | Lark Song | High Rhulain | 1:24 |
| 33 | To Table | Mattimeo | 0:55 |
| 34 | Rakkety Tam | Rakkety Tam | 1:54 |
| 35 | Me Mammy | Rakkety Tam | 1:51 |
| 36 | Moles Song | Martin the Warrior | 0:49 |
| 37 | Paws | Taggerung | 0:51 |
| 38 | October Ale | The Long Patrol | 1:36 |
| 39 | Slumber On | Rakkety Tam | 1:45 |
| 40 | My Caterpillar | Outcast of Redwall | 1:18 |
| 41 | Laddie Buck | High Rhulain | 1:36 |
| 42 | Gates of Spring | Outcast of Redwall | 1:40 |
| 43 | Little Ones | The Long Patrol | 1:53 |
| 44 | Walla Walla | Rakkety Tam | 2:20 |
| 45 | Good Fortune | Loamhedge | 0:49 |
| 46 | Goodnight | Mariel of Redwall | 1:05 |
| 47 | Home | Outcast of Redwall | 1:28 |
Back Cover Text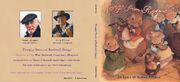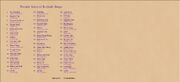 Twenty Years of Redwall Songs
Performed by The Redwall Company Players
Selected from 20 Years of Redwall unabridged audio books.
For more information see www.redwall.org
Notes
O'er The Hills is actually found in The Long Patrol