The Flowers of Icetor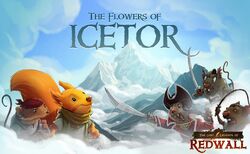 | | |
| --- | --- |
| Developer(s): | Soma Games |
| Publisher: | Soma Games |
| Released: | November 21, 2021 |
| Genre: | Interactive Fiction |
| Platforms: | Apple iOS, Android |
The Flowers of Icetor is a game or "episode" contained within the The Lost Legends of Redwall interactive fiction mobile app.
Story
Official Synopsis
The dreadful Dryditch Fever has returned! The secret to the cure lies deep in the Northern Mountains, but time is running out. It's up to you to save Mossflower Wood before all is lost!
An epic tale of an apprentice healer at Redwall Abbey who must venture out into the northern wilds to find the elusive cure for Dryditch Fever. Based on the Minecraft Adventure map built by the Soma Team for the original "Redwall Game" Kickstarter.
Plot
External Links