The Lost Legends of Redwall: The Scout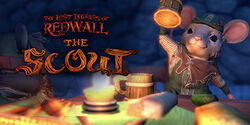 | | |
| --- | --- |
| Developer(s): | Soma Games |
| Publisher: | Soma Games |
| Released: | September 14, 2018 (Act I); April 30, 2021 (Act II); December 24, 2021 (Act III) |
| Genre: | Progressive Fantasy Adventure; Stealth Adventure; Puzzle Adventure |
| Platforms: | Steam, Xbox One, PlayStation 4 |
The Lost Legends of Redwall: The Scout is a three-act video game narrative featuring the tale of Sophia Ryemaid and Liam Rivermouse.
A "stealth-adventure" and "puzzle-adventure" game, The Scout is the story of a young mouse warrior-in-training who is forced to flee to Redwall Abbey when the Mossflower Woods village of Lilygrove is attacked by Scumsnout the Wearet and his crew of sea rats.
Release History
The Scout was originally scheduled for Early Access release on Steam on September 28, 2017, but it was delayed to December 18, 2017 for legal reasons. The title released in Early Access with a 40% discount at $8.99 for the first week, lasting through December 25, 2017.
On July 27, 2018, the game moved from Early Access to Beta. On September 14, 2018, The Scout Act I was officially released at a $14.99 price point.
On December 10, 2018, the soundtrack was released to streaming platforms.
On June 28, 2019, The Scout Act I was released on Xbox One.
On July 8, 2019, The Scout Act I was released on PlayStation 4.
On February 5, 2020, Soma announced a major overhaul of The Scout Act I, with major graphics and performance improvements.
On April 9, 2021, Soma again revealed a major overhaul of Act I so that it would "look and feel" like the remaining acts of The Scout. Bugs were fixed, the first two levels were restructured, and visuals were updated.
On April 30, 2021, The Scout Act II was released for $9.99 on Steam.
On December 24, 2021, The Scout Act III was released for $5.99 on Steam.
Story
Plot
The narrative is constructed as a three-act play written by Brother Jethro Barleyrow to tell Redwall Abbey residents tales of the past. As he produces the play, he also reveals the story to his grandson. The history that Barleyrow describes takes place right before the events of Redwall.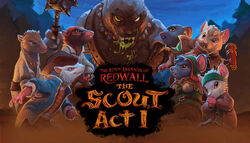 Sophia Ryemaid, a new recruit for the Lilygrove Scout Corps, and the fiancé of fellow Scout Liam Rivermouse, begins her official training at a course located right outside of Lilygrove. Sophia completes a series of challenges and tasks to prove she is ready to be a Scout. Upon Sophia's graduation, Lilygrove is attacked by rats led by Scumsnout the Wearet, throwing the village into chaos.
Sophia heads towards Lilygrove to light the village's lighthouse and alert other nearby towns that they need help, but a large crew of sea rats steadily makes their way towards the village as well. She escapes into the Lilygrove Catacombs, where she sneaks past sea rats to find an injured and poisoned Liam captured by Scumsnout. Sophia calls out to Scumsnout in an effort to distract him, and the villain soon gives chase through Lilygrove. Sophia reaches the top of the village Lighthouse and successfully lights it, calling in reinforcements from all across Redwall country. However, just as she relishes in her victory, Scumsnout appears and throws her from the Lighthouse.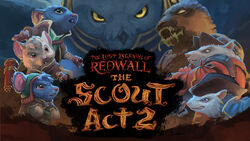 Sophia survives the lengthy fall from the Lighthouse, and rouses to the clang and crash of battle. Navigating the town around her, she assists her fellow scouts in defeating Scumsnout's rats. With her betrothed, Liam, deeply wounded, Captain Robin Springhunter sends Sophia through Mossflower Woods to Winsome Wraith, the residence of his healer friend, Valo Scrimpaw.
Along the route, Liam and Sophia encounter numerous rats, as well as Lilygrove residents in need of rescue. Everyone finally gathers at Camp Silversands, where an escape from Cheesethief is made. As Sophia, Liam, Tussa Pawsnettle, and their new friend Glimber attempt to continue on their trek, Scumsnout reappears. Sophia distracts him, causing the wearet to fall into a pit.
The travelers arrive at Winsome Wraith, where Valo Scrimpaw greets them.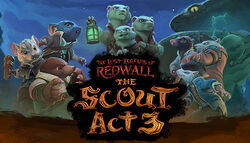 Sophia, Liam, Glimber, and Tussa arrive at the home of Valo Scrimpaw and his family. Liam's wounds need more advanced treatment, and Valo refers the crew to the healers at Redwall Abbey.
Cheesethief interrupts their gathering and takes Bolo Scrimpaw, while the others flee into the swamp. Valo, Mila Scrimpaw, Sophia, Liam, Glimber, and Tussa meet local resident Jebediah Starthistle, who helps them develop a plan to find Bolo and reach Redwall.
The group heads north, where after encountering Cheesethief again it's revealed that he was in cahoots with Bolo, and they had conducted an elaborate ruse in order for the sea rats to capture Valo.
While en route to Redwall, Scumsnout reveals himself to be alive. Pursuing Sophia, he meets his end at last. The group finally reaches Redwall Abbey, where Liam is healed.
Game Information
Voice Actors
Act I: Lilygrove
Act II: The Wraith
Act III: The Abbey
William's Mother, Abbey Sister - Judith Bareham
Tussa Pawsnettle, Asmodeus Poisonteeth, grunt rat - Kailey Bray
Ichabod Cornsilk - Jason Caits-Cheverst
Valo Scrimpaw, grunt rat - Taher Chy
Sparrowblade, Matthias, grunt rat - Joshua Cookingham
Albert Fallbrown, Thomas Beechwhite - Alexander Doddy
Columbine Thatchling - Katie Flamman
Belladora Ivywain, Whiprider, Oleander Lightstep - Lizzy Hofe
Jebediah Starthistle, grunt rat - Jesse Inocalla
Cheesethief, Bloodwhelp , Asmodeus Poisonteeth - David Lowe
Dorabella Ivywain, Daisymace, grunt rat - Carla Mack
Pickerel Starthistle, Young Mouse Matthew, grunt rat - Michael Malconian
Singing rats - Erin and James Marantette
Greybones, Abbey Brother - Stephen R. Planalp
Fraybie Nutworth, Coyle Twiddlebin, Swingpaw - Richard Reed
Glimber, Brother Jethro Barleyrow, Robin Springhunter, Scumsnout - Bill Russell
Brunach Wheelwright, Brother Methuselah, grunt rat - Phillip Sacramento
Liam Rivermouse, Martin the Warrior - Austin Schmidt
William Barleyrow - Quinton A. Slusser
Toothrip - Andy Smith
Foxglove Brooker - Stephanie Tobin
Sophia Ryemaid - Hannah Tuttle
Thornfist - Dominic Tuttle
Young Mouse Annabelle - Sienna Willow Tuttle
Laban Rushwittles, Rootsworth Rushstalk, grunt rat - Malk Williams
Groggrasp, grunt rat - Alexander Wilson
Bolo Scrimpaw - Julian Windram
Gameplay
Levels
Act I: Lilygrove
The Catacombs

The Wearet

The Lighthouse
Act II: The Wraith
Act III: The Abbey
External Links