The Lost Legends of Redwall: The Scout Act II - The Wraith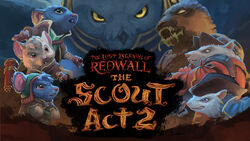 | | |
| --- | --- |
| Developer(s): | Soma Games |
| Publisher: | Soma Games |
| Released: | April 30, 2021 |
| Genre: | Puzzle-Adventure |
| Platforms: | Steam |
The Lost Legends of Redwall: The Scout Act II is the third entry in the The Lost Legends of Redwall video game series, and the second episode or Act of The Scout. It is a direct sequel to The Lost Legends of Redwall: The Scout Act I. The title of the act is "The Wraith."
Release History
The Lost Legends of Redwall: The Scout Act II was originally scheduled for release in Summer 2020. It was delayed until March 31, 2021, and officially released on April 30, 2021 for $9.99 on Steam.
Story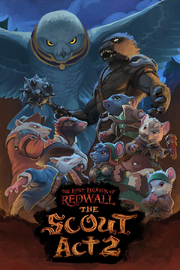 Official Synopsis
In this second episode, fresh off your defeat of the murderous Scumsnout, you wake to hear the sounds of battle — and must make your way into the fray to find your lost (and injured!) beloved!
Summary
...tells the story of Liam and Sophia's desperate escape from their home, which has been raided by pirate rats. They race together to the Winsome Wraith, where mysterious and dangerous stoats may offer the help they need…or may kill them where they stand.
Choose to play as either Liam or Sophia, the newest member of the Lilygrove Scout Corps, a group of woodland rangers tasked with the protection of the land and trained in the ancient ways of woodcraft. The environment is dangerous enough, but creatures like Scumsnout, Cheesethief, and Captain Snow each shadow your steps as well.
It will take all of your wit and guile to make it out alive!
Plot
Sophia Ryemaid, the newest member of the Lilygrove Scout Corps, survives a lengthy fall from the Lilygrove Lighthouse, and rouses to the clang and crash of battle. Navigating the town around her, she assists her fellow scouts in defeating Scumsnout's rats. With her betrothed, Liam Rivermouse, deeply wounded, Captain Robin Springhunter sends Sophia through Mossflower Woods to Winsome Wraith, the residence of his healer friend, Valo Scrimpaw.
Along the route, Liam and Sophia encounter numerous rats, as well as Lilygrove residents in need of rescue. Everyone finally gathers at Camp Silversands, where an escape from Cheesethief is made. As Sophia, Liam, Tussa Pawsnettle, and their new friend Glimber attempt to continue on their trek, Scumsnout reappears. Sophia distracts him, causing the wearet to fall into a pit.
The travelers arrive at Winsome Wraith, where Valo and Bolo Scrimpaw greet them.
Game Information
Voice Actors
Captain Barker - Judith Bareham
Tussa Pawsnettle - Kailey Bray
Ichabod Cornsilk - Jason Caits-Cheverst
Valo Scrimpaw - Taher Chy
Sister Edelweiss - Debbie Collins
Sparrowblade, grunt rat - Joshua Cookingham
Albert Fallbrown, Thomas Beechwhite, Grayface, grunt rat - Alexander Doddy
Columbine Thatchling, Barrelmaster Alba Acutus - Katie Flamman
Belladora Ivywain, Whiprider - Lizzy Hofe
Cheesethief, Bloodwhelp - David Lowe
Dorabella Ivywain, Daisymace, grunt rat - Carla Mack
Pickerel Starthistle - Michael Malconian
Additional characters - Jonah Pendleton
Greybones - Stephen R. Planalp
Fraybie Nutworth, Swingpaw - Richard Reed
Glimber, Captain Snow, Brother Jethro Barleyrow, Robin Springhunter, Scumsnout - Bill Russell
Brunach Wheelwright - Phillip Sacramento
Liam Rivermouse - Austin Schmidt
William Barleyrow - Madeline Slusser
Toothrip - Andy Smith
Foxglove Brooker - Stephanie Tobin
Sophia Ryemaid - Hannah Tuttle
Thornfist - Dominic Tuttle
Laban Rushwittles, grunt rat - Malk Williams
Groggrasp, grunt rat - Alexander Wilson
Bolo Scrimpaw, Foremole Ole Grumple - Julian Windram

Characters in The Scout Act II
Gameplay
Levels
Development
For the full development history, read The Scout Act II Development History
Player Videos
External Links