The Lost Legends of Redwall: The Scout Act III - The Abbey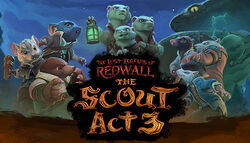 | | |
| --- | --- |
| Developer(s): | Soma Games |
| Publisher: | Soma Games |
| Released: | December 24, 2021 |
| Genre: | Puzzle-Adventure |
| Platforms: | Steam |
The Lost Legends of Redwall: The Scout Act III is the fifth episode of the The Lost Legends of Redwall video game series, and the third Act of The Scout. Released on December 24, 2021, it is a direct sequel to The Scout Act II. The title of the act is "The Abbey."
Release History
The Scout Act III was originally scheduled for release on June 30, 2021; it was delayed until August 30, 2021. It was delayed again until September 30, 2021. It was officially released on December 24, 2021.
Story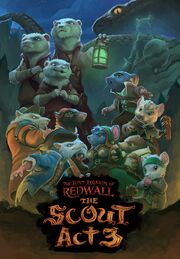 Official Synopsis
In this third and final episode, seeking escape from Cheesethief you find yourself beholden to a family of mysterious Stoats who may or may not be carnivores...
Summary
After being mortally poisoned by Scumsnout's vicious maw, our young Scouts have made it to the Winsome Wraith in one piece, if just barely. While the mysterious stoat's treatment has bought some precious time, Liam and Sophia must now travel the rest of the way to Redwall Abbey for a more permanent cure. This is the dramatic conclusion of their journey through the murk of Portman's Slough, the miraculously-functioning puzzles of Grating Gulley, and the ancient ruins of the Otters' Den.
Plot
Sophia, Liam, Glimber, and Tussa Pawsnettle arrive at the home of Valo Scrimpaw and his family at the Winsome Wraith. Liam's wounds need more advanced treatment, and Valo refers the crew to the healers at Redwall Abbey.
Cheesethief interrupts their gathering and takes Bolo Scrimpaw, while the others flee into the swamp. Valo, Mila Scrimpaw, Sophia, Liam, Glimber, and Tussa meet local resident Jebediah Starthistle, who helps them develop a plan to find Bolo and reach Redwall.
The group heads north, where after encountering Cheesethief again it's revealed that he was in cahoots with Bolo, and they had conducted an elaborate ruse in order for the sea rats to capture Valo.
While en route to Redwall, Scumsnout reveals himself to be alive. Pursuing Sophia, he meets his end at last. The group finally reaches Redwall Abbey, where Liam is healed.
Game Information
Voice Actors
William's Mother, Abbey Sister - Judith Bareham
Tussa Pawsnettle, Asmodeus Poisonteeth, grunt rat - Kailey Bray
Ichabod Cornsilk - Jason Caits-Cheverst
Valo Scrimpaw, grunt rat - Taher Chy
Sparrowblade, Matthias, grunt rat - Joshua Cookingham
Albert Fallbrown, Thomas Beechwhite - Alexander Doddy
Columbine Thatchling - Katie Flamman
Belladora Ivywain, Whiprider, Oleander Lightstep - Lizzy Hofe
Jebediah Starthistle, grunt rat - Jesse Inocalla
Cheesethief, Bloodwhelp , Asmodeus Poisonteeth - David Lowe
Dorabella Ivywain, Daisymace, grunt rat - Carla Mack
Pickerel Starthistle, Young Mouse Matthew, grunt rat - Michael Malconian
Singing rats - Erin and James Marantette
Greybones, Abbey Brother - Stephen R. Planalp
Fraybie Nutworth, Coyle Twiddlebin, Swingpaw - Richard Reed
Glimber, Brother Jethro Barleyrow, Robin Springhunter, Scumsnout - Bill Russell
Brunach Wheelwright, Brother Methuselah, grunt rat - Phillip Sacramento
Liam Rivermouse, Martin the Warrior - Austin Schmidt
William Barleyrow - Quinton A. Slusser
Toothrip - Andy Smith
Foxglove Brooker - Stephanie Tobin
Sophia Ryemaid - Hannah Tuttle
Thornfist - Dominic Tuttle
Young Mouse Annabelle - Sienna Willow Tuttle
Laban Rushwittles, Rootsworth Rushstalk, grunt rat - Malk Williams
Groggrasp, grunt rat - Alexander Wilson
Bolo Scrimpaw - Julian Windram
Characters in The Scout Act III
Levels
Development
For the full development history, read The Scout Act III Development History
Soma Games used Intel® GPA to improve the frame rate of The Scout: Act III.
Player Videos
External Links