The Lost Legends of Redwall: The Scout Act III - The Abbey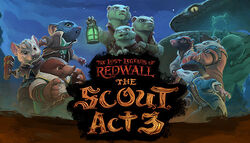 | | |
| --- | --- |
| Developer(s): | Soma Games |
| Publisher: | Soma Games |
| Released: | September 30, 2021 |
| Genre: | Puzzle-Adventure |
| Platforms: | Steam |
The Lost Legends of Redwall: The Scout Act III is the fourth episode of the The Lost Legends of Redwall video game series, and the third Act of The Scout. It is a direct sequel to The Scout Act II, and scheduled for release on September 30, 2021. The title of the act is "The Abbey."
The game will feature a character named Cap'n Jeb, as well as otters in some capacity.
Release History
The Scout Act III was originally scheduled for release on June 30, 2021; it was delayed until August 30, 2021. It was delayed again until September 30, 2021.
Story
Official Synopsis
In this third and final episode, seeking escape from Cheesethief you find yourself beholden to a family of mysterious Stoats who may or may not be carnivores...
Summary
The third episode, "The Abbey," tells the story of Liam and Sophia's desperate race to Redwall Abbey after being mortally poisoned by Scumsnout's vicious maw. This is the dramatic conclusion of their journey through Portman's Slough, Pontedaria, and the ancient Otter's ruins.
Plot
Game Information
Voice Actors
Characters in The Scout Act III
Levels
External Links