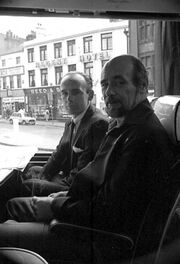 The Muscle Market was the 12th episode of the 11th season of BBC4 television series A Play for Today, a UK television program that featured original television plays and stage play adaptations from 1970-1984. This teleplay was written by Liverpudlian Alan Bleasdale, and it was filmed around Liverpool and Birkenhead.
This episode first aired on January 13, 1981, and Brian Jacques acted as a minor cast member. Along with a few others, he was a "heavy," or a person hired as protection.
Brian appears towards the end of the show, around the 01:08 minute marker, as one amongst several men serving as a group of thugs for Philip Donaghy's character, Maxie. The men proceed to intimidate various bidders who are participating in an auction for construction equipment, and the buyers quickly depart as the heavies move in to take over the event.
Brian is given one line of dialogue as the auctioneer finds himself overwhelmed: "Hey yeah, the final offer, take it or leave it. Eleven pence, eighty."
Running time: 1 hour, 18 min.
Official Synopsis
'Remember when we were kids - either never out of trouble or never out of the pictures.' Danny Duggan's rough-house business methods and life-style owe more to early influences than to the CBI. But with the bottom falling out of the building game and the Inland Revenue on the doorstep, playing at gangsters is only fun when you're on the winning side.
Cast
Peter Postlethwaite - Danny Dugan
Philip Donaghy - Maxie
Terence Rigby - Bernard
Alison Steadman - Susan
Paul Jesson - John
Mitzi Mueller - Pauleen
Ken Sharrock - Miller
Paul Harman - Abbott
Roger Phillips - "Costello"
Ronald Forfar - "Costello the Second"
Barry McCarthy - Hutchinson
Bill Stewart - Auctioneer
Bill Moores - Arthur
Derek McLean - Bernard's son
Adrian Mills - Bernard's son
Mike Donohoe - Heavy
Steve Faye - Heavy
Brian Jacques - Heavy
Jackie Hamilton - Heavy
Mike Hayden - Heavy
Johnny Mallen - Heavy
Ken Rose - Heavy
Crew
Alan Bleasdale - Screenwriter
Eddie Powell - Fight Arranger
Warwick Bedford - Stills Photographer
David Attwood - Production assistant
Andrew Meikle - Production assistant
Carol Parls - Production Unit manager
Diana Coxon - Director's assistant
James Webster - Assistant floor manager
Terry Dawson - Costume designer
Pam Rayson - Makeup artist
Martin Dale - Film recordist
David Baumber - Dubbing mixer
Henry Fowler - Film editor
Sally Williams - Designer
David Jackson - Photography
Michael Wearing - Producer
Video