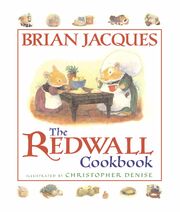 The Redwall Cookbook was published as an accessory to the Redwall series. It is the only official resource for Redwall recipes, with two exceptions (see Trivia section).
Summary
This book features numerous recipes from the Redwall series one can cook by themselves. All the recipes are vegetarian, with the obvious exception of Shrimp 'n' Hotroot Soup.
It also features illustrations from Christopher Denise.
The plot follows Sister Pansy through one cycle of the seasons at Redwall Abbey, as she becomes the Head Cook.
Characters in The Redwall Cookbook
Recipes
The following recipes appear in the book:
Spring Recipes
Hare's Pawspring Vegetable Soup
Crispy Cheese 'n' Onion Hogbake
Vegetable Casserole à La Foremole
Gourmet Garrison Grilled Leeks
Stuffed Springtide Mushrooms
Abbot's Special Abbey Trifle
Spiced Gatehouse Tea Bread
Honeybaked Apples
Hot Mint Tea
Summer Recipes
Hotroot Sunsalad
Brockhall Badger Carrot Cakes
Great Hall Gooseberry Fool
Cheerful Churchmouse Cherry Crisp
Rosey's Jolly Raspberry Jelly Rock Cakes
Afternoon Tea Scones with Strawberry Jam and Cream
Squirrelmum's Blackberry and Apple Cake
Guosim Shrew Shortbread
Autumn Recipes
Winter Recipes
Veggible Molebake
Stones Inna Swamp
Savoury Squirrel Bakes
Outside 'n' Inside Cobbler Riddle
Rubbadeedubb Pudd
Nunnymolers
Applesnow
Mossflower Mulled Cider
Trivia
In Redwall.org's Ask Brian, Volume 3, a reader asked if Brian Jacques "ever thought of publishing a Redwall cookbook?" The response was "I have thought about it and had many many requests like yours. But there are so many calls upon my time that this is not a priority at the moment. I would rather write another Redwall adventure!!" Approximately a decade later, this cookbook was finally published.
Release Details
2005, US, Philomel Books, ISBN 0399237917, Pub. Date: September 2005, Paperback
Community content is available under
CC-BY-SA
unless otherwise noted.