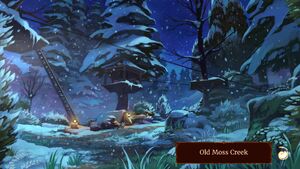 Old Moss Creek is the second level of The Lost Legends of Redwall: The Scout Act II.
Summary
After arriving at Old Moss Creek, Sophia Ryemaid and Liam Rivermouse traverse the landscape until they stumble into Albert Fallbrown, the tailor, who volunteers to look after the increasingly ailing Liam while Sophia scouts ahead.
Sophia, journeying onward, runs into Pickerel Starthistle. As she progresses across a river, Sophia avoids rats and continues further, encountering Dorabella Ivywain and Belladora Ivywain on their way to Redwall Abbey after fleeing to an Old Mill.
On the other side of the mill wheel, Albert and Liam wait behind while Sophia clears out more rats.
The trio further progresses down the path, until they once again run into more rats, which Sophia handles.
They then setup camp for the evening.
Demo Level
In December 2017, The Lost Legends of Redwall: The Scout Act I was released on Steam Early Access, and it included an early version of Old Moss Creek. Albert was present, however the game used a function that allowed the player to call members of the traveling party to join him. It was completely different than what ended up in The Scout Act II.