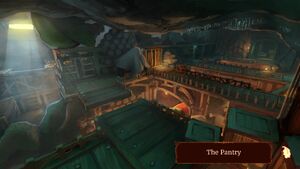 Silversands is the fifth level of The Lost Legends of Redwall: The Scout Act II.
Summary
Sophia Ryemaid navigates the Camp Silversands warehouse pantry, assisting the Lilygrovers with making their way inside.
However, Cheesethief and his gang of rats have been running a battering ram at the door. The vermin break into the building, hunting for the woodlanders.
While the Lilygrovers hide and gather supplies to rebuild their town, Sophia dispatches with the rats, collapsing a large barrel on top of Cheesethief. As they make their way out of the building, it becomes apparent that Cheesethief is still alive.