Tribes of Redwall: Mice was published in 2003 as an accessory to the Redwall series.
Official Description
Is Martin the Warrior the most valiant beast of Redwall?
The Tribes of Redwall is a brilliant series which reveals the truth about the noble clans of Redwall.
Join the greatest tribe of all, the mice. Born warriors, mischief-makers, healers and schemers, the mice are beasts of legend - from Gonff and Rose to Mariel and the celebrated Martin himself.
Discover the mysteries of Martin's sword, the Joseph Bell and the mystical tapestry of the Great Hall. With a challenging quiz and pull out color poster, this guide contains the secrets of a mighty tribe which no true Redwall fan will want to be without.
Summary
This booklet about mice features trivia questions, a giant poster, and profiles of many of the mouse characters in the series, including Martin the Warrior.
Featured characters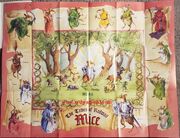 Community content is available under
CC-BY-SA
unless otherwise noted.