Tussa Pawsnettle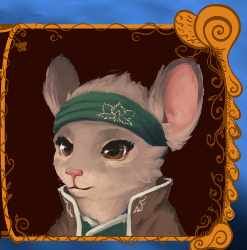 Tussa Pawsnettle was a mouse who resided in Lilygrove. She was a member of the Lilygrove Scout Corps. Tussa likes fish, and hates nuts.
At Hilltop Camp, Tussa developed a wayfinding course for new recruits. An initiate must use their map to find four key landmarks, then use their wayglass to find nearby geocaches.
Once, while on a quest for fenrot for Ichabod Cornsilk, Tussa was captured by a toad. Coyle Twiddlebin jumped into the fray to rescue her.
After sea rats led by Scumsnout attacked Lilygrove, Robin Springhunter tasked Tussa with taking the Tangram to Valo Scrimpaw at Winsome Wraith.
Official Description
Tussa was an awkward and unpopular girl growing up which taught her to be defensive and aloof. When she blossomed in her adolescence the ugly duckling became a lovely swan, adored by the fellas around her, but she never lost the fundamental mistrust from her youth which makes her come off as cold and unapproachable. Tussa is secretly shy and hides that behind a facade of confidence and feistiness. She doesn't really know how to get close to people although she and Cloverdown are fast friends. At a glance, you may peg Tussa as a tomboy since she doesn't mind a little dirt (imperative for a scout), but she can be as feminine as Foxglove any day.