Contributed by LordTBT at 2:20AM GMT, 4 July 2014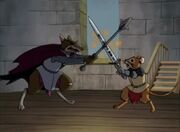 Moments ago, two eBay auctions ended on some rare Redwall TV Series production artwork. The Redwall Wiki had hoped to acquire at least one for its site library, however it was not meant to be. The opposing bidder either jumped in during the last minute or used a sniper program to win - large bids went in on both pieces with approximately 30 seconds to go for each auction, making it difficult to counter. Both auctions closed at $122.50.
The pieces of art are clearly pre-final production. The first is pencil artwork from Season 1, Episode 13, and consists of the finale battle sequence involving Cluny the Scourge and Matthias. I've included the actual scene above for comparison - you'll note Cluny's cape does not have a hole in it, for example.
The second was described as a "hand-painted background," and is also from Season 1, but from Episode 12. This giant skull is located in the Quarry residence of Asmodeus.
Unfortunately, the owner of the artwork does not provide a Certificate of Authenticity with his sales, but they are certainly collectible.
At any rate, congratulations to the bidder, and if we know you, please come forward and tell us about the art!
7/30/14 More artwork added!
Season 1
Season 1, Episode 12 -

Underground
TBD
Related Stories
Want to keep up-to-date on all the latest Redwall and Brian Jacques news, reviews, and special features? Get social with us!
Community content is available under
CC-BY-SA
unless otherwise noted.