Contributed by LordTBT at 12:38AM GMT, 09 February 2011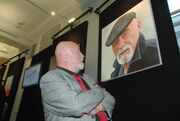 First, many are wondering the fate of The Rogue Crew. I have assurances that the publication of The Rogue Crew will be unaffected, so we should plan on seeing the book this coming May as scheduled.
Second, this blog post is meant to list tributes to Brian Jacques from those who knew him or worked with him, or from those who are now well-known in their fields and were inspired by this great man. If you fall into one of those previously mentioned categories and have a web presence where you posted a tribute, OR, you do not have a web presence and have something to contribute, please e-mail me.
For fans wishing to write their own blog post tributes or upload fan art tributes, please be sure to add them to the Tributes category.
Want to keep up-to-date on all the latest Redwall and Brian Jacques news, reviews, and special features? Get social with us!
Community content is available under
CC-BY-SA
unless otherwise noted.