Contributed by LordTBT at 12:49AM GMT, 27 December 2015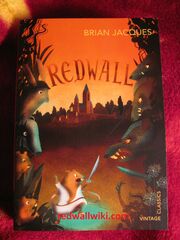 In June 2014, the Redwall Wiki first reported on the publishing of a new UK paperback edition of Redwall, by Vintage Children's Classics.
The book features new front and back cover artwork by Dermot Flynn, with new interior chapter headings by Rachael Hare.
The first thing to note about this edition is that it is mammoth. We've attempted to demonstrate that in the images below, with a fun comparison to the 1990 Avon edition of Mossflower.
There is no map.
In total, the book comes in at 576 pages, with 542 dedicated to the story itself. The rest comprise what has been termed "The Backstory."
It contains:
The "Who's Who in Redwall" - a 3-page list of 28 characters, with brief biographies of about a sentence or so each.
"Test Your Knowledge of Redwall" - a 2-page, 10 question quiz (1 page of answers is at the very back)
"What Do We Know About Brian Jacques?" - a 2-page author biography
"Design your own historical tapestry" - a 1-page call-to-action, inspiring the reader to make a tapestry of their own life
"A recipe from Redwall" - a 2-page recipe for a baked apples dish. It should be noted that The Redwall Cookbook includes a similar recipe: "Honeybaked Apples." The recipes are different. This one calls for cinnamon and nutmeg, amongst other things.
The back cover of this edition refers to this recipe as a "Redwall Abbey pudding" - it is not incorrect. The word "pudding" is commonly used in the UK to simply refer to dessert, it does not literally mean what many Americans describe as pudding in that part of the world.
"What does that word mean?" - a 2-page glossary of terms used throughout the novel, e.g. "fulcrum," "stygian."

It is a very nice edition of Redwall, however it should be noted that "The Backstory" contains two publisher errors!
In the "Who's Who in Redwall" section, Cornflower Fieldmouse is provided the name Cornflower Churchmouse. Guosim, the female shrew, is given the male descriptor "he." Fun bit of trivia: The Redwall Wiki also uncovered a publisher error when we reviewed the Redwall: 20th Anniversary Gift Package.
I'd say it certainly makes this UK edition of Redwall more collectible!
That's all for this round of Redwall Collectors Community. Have a great new year!
UPDATE:
Redwall fan Cameron writes in to let us know there's a third error! The back cover refers to Matthias enlisting the help of "argumentative stoats" - that should be shrews!
Want to keep up-to-date on all the latest Redwall and Brian Jacques news, reviews, and special features? Get social with us!